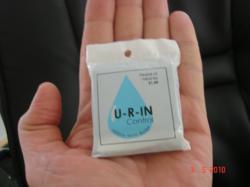 When there is nowhere to go, go where you are with Go Guy the pocket urinal
Pawtucket, RI (PRWEB) July 19, 2011
The Oregonian reported 7.8 million gallons of drinking water had to be drained from the Oregon reservoir after a urinary incident. They drained the water after security cameras recorded a 21-year-old man allegedly urinating Wednesday into the Mount Tabor reservoir, which supplies drinking water to the majority of Portland. Go Guy, the pocket urinal, could have prevented this incident.
Public urination is made a crime in many areas seeking to have people use toilets rather than empty their bladder in a public place. Public urination laws are primarily governed by state and local laws, which vary by jurisdiction. It is possible to be charged with littering, public nuisance, indecent exposure, disorderly conduct, or other law if the locality doesn't have a law specifically addressing public urination ordinance.
Many cities and government officials are reaching out to Go Guy the pocket urinal. The product is a winner for all concerned citizen because it is easy to use and throw away. One official in Rhode Island has given them to their police officers to use when they have events or have someone in the car in custody that has to urinate. A New York maintenance man states that if they would hand out Go Guy to the homeless it would save the city millions of dollars in clean up costs. The state of California alone in one year spent over fifty million dollars in roadside clean up of urine bottles. The company U-R-IN Control plans to have over 100 cities signed up by year's end.
There are other urinary devices out there but none compare to the cost and convenience of Go Guy which can be carried in your pocket, purse or glove compartment. It fits in the palm of your hand and comes with a hand wipe for clean up. Their motto is "When there is nowhere to go, go where you are with Go Guy the pocket urinal."
For more information on U-R-IN Control's Go Guy, the pocket urinal, please visit http://www.askgoguy.com.
###