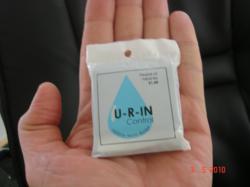 When there is no where to go, go where you are with Go GUY the pocket urinal
Pawtucket, RI (PRWEB) July 28, 2011
Syndrome has destroyed careers and made some people homebound. Dating is a nightmare. Jobs with shared bathrooms or close working quarters are impossible to handle. People think it is funny but the International Paruresis Association estimates that the fear of peeing in public restrooms or urinating when others are around affects an estimated 17 million Americans , or 7% of the population. In contrast to physiological conditions like prostatitis (inflammation of the prostate) that block the flow of urine, BBS is a psychological disorder that involves the urinary system. More precisely, BBS is a type of social phobia, meaning the paruretic is usually shy and fears being scrutinized or criticized by others when performing in public, in this case, urinating in a public restroom. The psychological conflict that generates this particular form of social phobia is expressed through the physical symptom of being unable to urinate whenever the person desires.
What Symptoms Are Associated With Paruresis?
Here is one description of how paruresis operates in a person's life: After an initial unpleasant experience, the individual anticipates difficulty urinating whenever entering a bathroom. Forcible attempts to control the process fail, and associated anxiety with performance reduces the individual's chances of urinating while in a public facility. The paruretic must then adjust to the disorder by urinating as much as possible when at home, restricting the intake of fluids, locating vacant public bathrooms and refusing extended social invitations to avoid urinating away from home.
Paruretics engage in avoidance behavior, which temporarily reduces the fear associated with an inability to urinate but reinforces the phobic pattern. While some paruretics deny feeling any overt anxiety in public bathrooms and insist that they merely can't initiate urination, others do report physiological symptoms of anxiety, including heart palpitations, sweating, dizziness, faintness and shaking.
Since this topic is rarely talked about publicly, many paruretics feel that they are the only ones suffering from it. They feel ashamed of their disorder and become experts at hiding it from their closest friends, spouses and even their physicians. The sense of shame, humiliation, isolation and secondary depression resulting from this situation can be debilitating.
Many people seek a urologist to 1) make certain there is no underlying physical ailment; 2) reassure the patient that he or she is not alone; 3) discuss behavioral approaches such as scheduling urination, and, for men, using a private toilet rather than a urinal; 4) teach the patient, if he or she so desires, self-catheterization; and 5) carry a product such as Go Guy for a sense of security.
U-R-IN Control LLC came up with Go Guy the pocket urinal to help the comfort threshold which may be eclipsed by too many negatives in a particular situation such as noise, odors, lack of visual privacy, and other people in the restroom talking, Bashful Bladder Syndrome kicks in and prevents the person from urinating at that time. With Go Guy you can duck into a closet, hide behind a tree, find a private place of comfort for the use when there are too many thresholds to overcome. The concept is simple. Men need something small enough to keep with them at all times, small enough to fit in there pocket that, in an instant could be used to relieve themselves. The solution is a small, compact, watertight leak resistant bag that is filled with polymer crystals that gelatinize the urine upon contact. Each U-R-IN Control bag comes in discrete black so no one knows what's inside they also come with a wet wipe for sanitary clean up. You can now obtain this product at your local pharmacy or contact askgoguy.com.
###