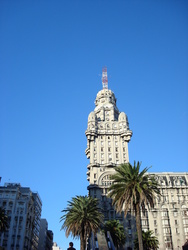 I love the Sunday lunches! It is a great opportunity to get up to date with friends and meet new friends! And the food is delicious!
Montevideo, Uruguay (PRWEB) November 13, 2010
All over the Internet are websites and promotions for travel, investing, high tech telecommuting and retirement in many tropical and exotic places. These websites are designed to create a vision of paradise where life is peaceful, safe and cheap. Some people are so inspired by their visions, they pack their bags and move to their dream paradise sight unseen.
Something different happened 5 five years ago, far away from the USA in Uruguay, a small country hidden in South America, just below Brazil. The small country isn't tropical or exotic, and gated communities are almost unknown, but some call it paradise.
There is not much information about Uruguay available and many have questions: Is it tropical? Is it cheap? Is it safe? How do they handle Real Estate Investments? And many more. Some say it is the San Tropez or the Switzerland of South America. Or that it has the Architecture of Barcelona.
To help answer these and many more questions, a social networking group was formed in November 2005, called, "The Montevideo English Speaking Expat Meeting". On November 21st, the Group will be celebrating it's Fifth Anniversary of meeting for lunch every single Sunday without fail since 2005!
The group was the brainchild of Glen Roberts, who had moved to Uruguay a few months earlier from Costa Rica. He had started the website, TotalUruguay.com just before he moved. However, the website was just that--a website. It lacked the human element … so Roberts decided to bring out the human side by announcing a time and place for people to meet. The weekly meeting has since grown into a multinational, multicultural social networking event and social support group.
It started with only North Americans, but soon included other English-speaking foreigners, as well as local Uruguayans. The locals attend in order to enhance their English-speaking skills because it is hard to find native speakers to converse with. They also contribute their in-depth knowledge of the area and the rich history of their Uruguayan culture. Today the group is truly international. There is hardly a Sunday that goes by without people from three or four different countries attending. The luncheons are informal social gatherings with no business agenda.
Yet people in the group have found jobs, social support, business contacts, romantic partners and more. The wide range of backgrounds, experiences, cultures and dreams of attendees always keeps things interesting. There is no mailing list or sales agenda, however many notes with phone numbers, web pages and other information exchange hands every Sunday.
Unlike many of the international relocation web sites or groups, this meeting takes no position on the benefits of moving to Uruguay. It is simply a social environment for people to share their experiences and information. The allure of Uruguay hasn't been just for baby boomers and others those looking to retire, but also for some who are high tech telecommuters who can chose to live anyplace that suits them.
One of the informal group's attendees, Pete remarked, "When people like us, all over the world, find themselves in a position to travel or even emigrate to a new country, we're met with a host of surprising changes. Sometimes those changes can be brutal."
Many don't know what to do in a foreign country, end up sitting in their hotel room on social networking sites searching for information. There are lots of people to talk to online but it can be difficult to connect at a deep level. TotalUruguay.com brought social networking to life five years ago in Uruguay, by putting the human element back in.
At the TotalUruguay.com Sunday luncheons total strangers sit down and within moments discover they have become friends. A room full of strangers start sharing their experiences and perspectives and often find surprising connections to others. Also in attendance are Uruguayans who will openly share their thoughts and suggestions.
Some of the things which are often shared include differences in the legal system, how much cars cost, how to get residency, housing, and lots of other neat stuff. For those who need specific help to find some products or services, there is bound to be someone that can help or give a good referral. The conversations are hardly limited to talk about Uruguay, and most anything may come up.
From world travelers just touching down for a week or two, long term expat residents, retirees seeking safe harbor, college age people in search of Samba and Tango, or any other myriad of people... they can all be found socializing. At one meeting or another, most all cultural, religious and economic backgrounds have been present openly sharing.
Roberts highlights the interesting backgrounds of many attendees by asking "Where are you from?" He says, "that question may well stump them. It can mean so many different things: Where were you born? Where did you live last? Where do you live now? Or, What travels brought you to Uruguay?" Often the complete answer is a long interesting commentary on ones life, all the different places they've lived, their experiences in those places and why they're thinking about Uruguay.
One couple stopped by while picking up supplies on the way back to the tropics after a skiing trip in the pristine mountains of Chile. Another rather lost but friendly fellow said, "My company transferred me here. I've never heard of the place, and I don't speak Spanish at all." Many people come here to retire because of the mild climate, great beaches, and beautiful surroundings.
There is no RSVP or registration so each meeting comes as a surprise to all the attendees. No two weekends are the same. One native English speaker, living in Uruguay and speaking only Castellano for 9 years, said that after his first visit with the group he realized that he really did need to get back in touch with his native language. Europeans come by to share things on a number of topics. Asians, Africans and other South Americans often attend the meetings as well.
Another regular attendee, Karin, told us, "I love the Sunday lunches! It is a great opportunity to get up to date with friends and meet new friends! And the food is delicious!" To further quote North American ex-pat, Pete, said, "In the group we met a whole bunch of new friends. The people who had been here for a while help make the transition a smooth one. It truly is a pleasure to have friends help take the edges off of things like the cultural changes and legal differences that always exist in a new country. They knew the ins and outs of everything from what you can buy, where, and what you can't, to how to settle in, become a resident, and begin to assimilate. Really, I don't know how hard it might have been if it were not for all the help these kind people so willingly gave. I can't say it too strongly. If you are coming down here to live, or even just to sample the place to see if you'll fit in, you simply must come on by to hang out with us!"
No reservation is needed and everyone in Montevideo is welcome. The lunch is scheduled every Sunday at 12:00 Noon. It is held at Fellini's Restaurant (corner of Benito Blanco and Jose Marti streets), in the Pocitos neighborhood of Montevideo. Fellini's is a cozy Italian restaurant with a great dessert menu and wine selection. Please refer to our website for a map and any updates.
About TotalUruguay.com: The web site Total Uruguay is an online community focused on Uruguay where people can share information and experiences and where people who are considering a move or travel to Uruguay can meet residents of Uruguay and others considering relocation. Total Uruguay also publishes "Expat Guide to Uruguay" available as a free PDF download or for 99 cents on Amazon Kindle.
Those who aren't able to attend the Sunday lunches are welcome to participate on the web site and dream about the gentle little paradise called Uruguay, tucked far away from the pressures of the world.
###