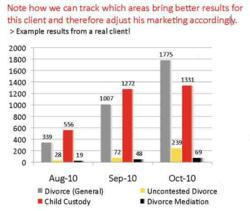 The main concentration of US law firms that already outsource their PPC advertising management to Webrageous encompass attorneys who specialize in medical device liability and pharmaceutical liability law.
Reno, Nevada (PRWEB) December 21, 2012
72% of PPC Advertising Clients at Webrageous are now US attorneys, reports Webrageous, a specialist Google AdWords Management Company for US Law Firms based in Reno, Nevada.
Expert PPC Management Company, Webrageous, today announced that the percentage of US attorneys clients looking to outsource their PPC Management has rapidly increased. 72% of Webrageous' clients are now US attorneys.
As more and more US attorneys turn to Webrageous for the management of their PPC advertising campaigns, the company becomes more and more equipped and effective at achieving impressive results for these clients.
"Over the past few years, Webrageous has slowly developed its services in the niche market of PPC management for US attorneys," said Mr. Chapman, Director of Marketing at Webrageous. "The move began as a natural growth in the company, but is now a strategic area of focus that forms a deliberate part of the Webrageous company mission."
Information on the US law firms which make up the 72% of PPC Clients at Webrageous
The main concentration of US law firms that already outsource their PPC advertising management to Webrageous encompass attorneys who specialize in medical device liability and pharmaceutical liability law. The second largest portion of US law firm PPC clients at Webrageous consists of divorce law firms.
With each new law firm that signs up to receive Webrageous' PPC management services, the more specialized and expert the team becomes in offering those services.
Webrageous has single-handedly managed to take some of its law firm clients from a 0% online marketing industry presence to a position where they consistently appear in the high ranking positions on the Google SERP. These attorneys now manage to secure new clients on a daily basis thanks to the highly focused advertising campaigns that Webrageous has developed on their behalf.
Bob Samet, from Ashcraft & Gerel LLP - a Webrageous law firm PPC client since 2006 - recalls that between 25,000 to 30,000 new leads were generated within a period of two months when Webrageous first took over the management of the law firm's PPC advertising campaigns. This is one reason why more and more US law firms are turning to Webrageous for their PPC management needs and why a whopping 72% of the company's clientele now consists of US law firms alone.
Reasons why all US law firms should outsource their PPC management to a specialized PPC management company
Most US law firms in 2012 have fully functioning websites and invest in at least one form of online presence. A large percentage of these law firms run PPC advertising campaigns.
However, the expert PPC management team at Webrageous knows that very few law firms entrust their PPC management to specialists in law firm advertising. By working closely with law firms for more than 10 years, the team at Webrageous knows beyond doubt that the specialized law firm PPC advertising management it offers is singular and highly effective.
All attorneys know that there are subtle restrictions placed on US law firms (restrictions which also vary depending on the US State within which the law firm operates) which prohibit the use of certain advertising techniques, forms or approaches. The problem for most US law firms is that regular PPC advertising managers are not normally aware of these restrictions.
The result is that the US law firm needs to dedicate more time to its PPC manager in order to ensure that these advertising restrictions are not accidentally breached. This is why Webrageous, many years ago, decided to begin specializing in the management of law firm PPC campaigns.
"With the percentage of the company's law firm clients climbing to an impressive 72%, the advertising team at Webrageous has truly become an expert in law firm PPC," comments Mr. Chapman, "and it is fully aware of what it is allowed to do within the advertising campaigns it manages without breaching any kind of US legal restriction and landing its clients in unnecessary trouble."
Webrageous also confirms that effective PPC management for US law firms comes from a secure knowledge of the potential law firm client. "For over 10 years, the Webrageous team has studied the online behavior of internet users looking for US lawyers," says Mr. Chapman, "and these studies have revealed important patterns in the way internet users travel through to the end of the online conversion tunnel; important patterns which our team uses in order to improve the PPC results of our law firm clients."
When contracting a PPC specialist in law firm advertising, as opposed to a PPC expert who generalizes in PPC management for a wide range of clients across many industries, the law firm in question is also missing out on vital knowledge about its industry competition.
The PPC managers at Webrageous spend 50% of their research time looking into new developments related to the world of online advertising and 50% of their time assessing the industry competition arising from neighboring law firm advertising campaigns.
In-depth knowledge of law firm industry competition is vital to any attorney looking to improve the results of online advertising, but this kind of inside information can only come from an online advertising expert, like Webrageous, which makes a concerted effort to delve deep into the dips and spurts of the competition on a daily basis.
Extra services offered to US law firm advertising clients at Webrageous
As Webrageous continues to increase the amount of US law firms that it supports, it chooses find more ways in which to invest in these important clients. "72% is a large portion of our client base," admits Mr. Chapman, "but Webrageous hopes this figure will continue to rise and this is why we regularly offer extra services to the US law firm advertising clients that sign up for our PPC management services."
US law firms working with Webrageous can benefit from:
1. free website designs (provided for some law firm clients after due assessment in order to maximize the optimization of their PPC campaigns)
2. website designs which ensure optimum results from PPC campaigns on mobile devices (responding to the modern trends in the marketing industry today)
3. a google adwords representative, on hand 7 days a week to help support us with very important issues regarding any campaign
4. a 60 day trial plan for US lawyers with large advertising budgets ($5000 per month or more) who wish to try out our services without making any kind of commitment for two months
In short, the increase of US PPC advertising clients at Webrageous to 72% is not only good news for the company, but good news for all US law firms looking for the best in attorney online marketing management. As Webrageous' law firm client base grows, so does its expertise in the area.
For more information on any of the services that have been mentioned above, contact Mr. Chapman directly at 530-553-4111 or visit the Webrageous website at any time.