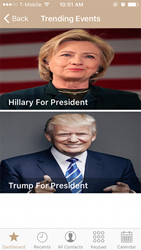 1code is a revolutionary social media networking application for engaging in the most intuitive way with people, organizations and events.
Sunnyvale, California (PRWEB) September 26, 2016
1code is a smart trending event app showing real-time and accurate information on politics, sports, and catastrophes.
1code provides all national and international event information such as emergency phone numbers, social media, top ten news links, location information related to the event, and other relevant information. Our event team is dedicated 24/7 to provide the most accurate and up to date information related to events as they occur.
Similar to hashtags used on Twitter, these trending event codes are created by the admin, instead of the users. The most trending event presently is the US Presidential Elections 2016. The 1codes for this event are 'Election 2016', 'Trump for President' and 'Hillary for President'.
By using this app, the users can easily find the presidential candidates' websites, social media, top news links, as well as the location and time of their interviews and events. The app also directs users to the official website of 'Donald Trump' and 'Hillary Clinton' for donations so the followers of Donald Trump and Hillary Clinton do not need to search the web or any social media to get most accurate information.
Today our contact information is not just limited to our phone number or email, but also our social media details. "Our mission is to be the hub for the most precise and current contact information of people, organizations and events around the world", says spokesperson Mark Smith.
1code is also a smart phonebook. By combining a calendar and a phonebook, users will be able to set up appointments with their contacts in one app.
1code is a revolutionary phonebook and calendar app for building relationships!
The key features of the app are:
Contact Sharing: 1code is like your username. It's the only thing you need to share with your existing contacts or when meeting someone new. You can store all your up-to-date contact information on your 1code profile. Update or make changes to your contact details and your 1code contacts will have the updated version automatically once you make changes to your profile.
Group Contact Sharing: Up to 100 people can exchange contact information at the same time in a fraction of a second. This has never been done by any other app.
Calendar Sharing: Scheduling a meeting shouldn't be so complicated! All we need is a solution to schedule meetings easily. Unlike your existing calendar, 1code gives you the ability to share your calendar with your contacts of your choice, so that they can see when you are busy or available. Save time on scheduling meetings.
The vision of 1code is to help users to build relationships with people they meet both physically and virtually.
1code is now available for download on iTunes & Google Play Store. Find more details about our app on http://www.1code.io and follow us on twitter @1codeapp.