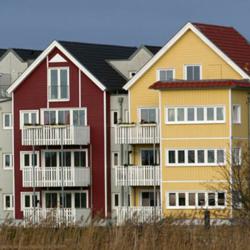 This will spark home sales and help tens of thousands of condominium communities begin to recover from the housing slump, and that can only help the national economy. ~ Thomas Skiba
Minnepolis, Minnesota (PRWEB) September 24, 2012
FHA's letter to mortgage lenders released on September 13, 2012 helps make investors take advantage of condos for sale that have otherwise sat too long in a cumbersome lending process of tight regulations. September's FHA letter to mortgage lenders puts in place temporary condominium project approval guideline changes to several overly-challenging FHA condominium approval policy provisions that affect U.S. home sales.
These changes replace, for the period specified, certain approval requirements specifically identified in this ML that were established in ML 11-22 and the Condominium Project Approval and Processing Guide. The FHA press release stated, "It was determined that certain policy adjustments were needed to address current housing market conditions."
Home Destination is aware of many condo owners who sought to sell their unit and haven't without the benefits this easing offers. At the same time prospective homeowners wanted to buy these units and couldn't get financing that fit the tight lending conditions. The new FHA mortgage lending policy adjustments bring relief and hopes that condo units sitting too long amongst Minneapolis foreclosed homes have a better chance to sell.
"This is excellent news for sellers, buyers, condominium communities and the housing market across the country," said Thomas Skiba, the association's CEO, said in a statement. "We hoped this would happen a lot sooner, but it's an important step in the right direction. This will spark home sales and help tens of thousands of condominium communities begin to recover from the housing slump, and that can only help the national economy."
"For buyers seeking multiple condo units for sale in one complex, the larger the complex the safer you are because there is more money to hire a professional management firm and people who are available for the board of directors, who may also have a personal investment motivation to be sure everything runs smoothly. The smaller the condo complex an investor may be considering, buyers may have a greater exposure to risks. Condo buyers may find themselves in a tangle with fewer partner dollars to sort it out," advises Jenna Thuening, owner of Home Destination.
A notable change in condo lending policy requirements is found in Section 3.4. which is replaced by the following updated policy guidance. At least 30 percent of the total units must be sold prior to endorsement of a mortgage on any unit. This pre-sale requirement is not applicable to existing projects or non-gut rehabilitation conversions, which require a 50 percent owner-occupancy percentage.
The pre-sale percentage must be documented in one of the three following options:
1) Copies of sales agreements and evidence (loan commitment) that a mortgagee is willing to make the loan.
2) Evidence that units have closed and are occupied.
3) Information from a developer/builder that lists all of the units already sold, under contract, or closed. This can be some form of documentation used for the company"s own tracking purposes as long as it is accompanied by a signed certification from the developer.
Another significant policy update, which will remain in force for almost two years, includes easing the requirement that legislated the number of units in a building that can be delinquent on homeowner association dues. With the new changes, no more than 15 percent of a building's units can be more than 60 days delinquent. The previous rule tolerated only 30 days delinquency. The previous rule tolerated only 30 days delinquency, making it harder for responsible homeowners to avoid lending limitations, or potential condo buyers to buy distressed condo properties that would help reduce foreclosures on the market.
Homeowners seeking to buy a condo sometimes find requirements for an attorney's certification confusing in the mix of condominium certifications. According to the press release, "The FHA does not require an attorney's certification. However, mortgagees, builders/developers, homeowners' associations, management companies, or project consultants may obtain this as part of their own due diligence process. This document does not replace other required condominium certifications that are required to be executed."
Minneapolis and St Paul area homeowners seeking to buy a condo or apartment in the Twin Cities will appreciate Home Destination's no-pressure well-informed decision making process. Start by the added knowledge a buyer gains by working through a mortgage worksheet and call Jenna Thuening at 612-396-7832.