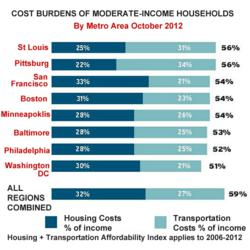 If we really want to understand whether housing is affordable, we need to consider housing and transportation costs together. Along with utilities, these are the true 'costs of place.' Report shows they have grown much faster than incomes. ~ Lubell
Minneapolis, Minnesota (PRWEB) October 20, 2012
A recent report from the Center for Housing Policy says that U.S. middle class citizens are losing ground. According to the report, across the United States, moderate-income households are not gaining home affordability; they are loosing it. Since 2000, the combined cost of housing and transportation rose a staggering 44 percent in the 25 largest U.S. metropolitan areas, while the average household income increased only 25 percent, according to the Center for Housing Policy and the Center for Neighborhood Technology.
The report summary is commanding and clear - the problem is getting worse. Housing costs rose faster than income during the 2000s, increasing the burden that these costs placed on already stretched homeowner budgets. "This held true for each of the 25 largest metropolitan areas, though the disparity was greater in some areas than others. For all households, including homeowners who have paid off their mortgage, housing and transportation together consumed an average of 48 percent of the median household's income by decade's end," states the report.
Home Destination, owner Jenna Thuening says, "Minneapolis and St Paul residential real estate communities are fairing better than average nationally. The Home Affordable Program has helped families and overall Minnesota residents have benefited from strong agency partnerships and efforts to keep the employment rate above average so prospective buyer could afford to buy a home".
Moderate-income households put out of pocket a disproportionate share. Data in the report calculates that households earning 50 to 100 percent of the median income of their metropolitan area, nearly three-fifths (59 percent) of their household income goes to housing and transportation costs alone. For these households, the growing costs they face today are particularly burdensome, creating concern how to cover the basic expenses of food, education, and health care, not to mention savings.
"If we really want to understand whether housing is affordable, we need to consider housing and transportation costs together," explains Center for Housing Policy Executive Director Jeffrey Lubell. "Along with utilities, which we include within housing costs, these are the true 'costs of place,' and our report shows they have grown much faster than incomes since 2000."
Home Destination finds the report's encouragements that there multiple policies need local and state governments adoption to help reduce housing costs. Policy options include taking measures to preserve existing affordable housing alternatives, reforming restrictive regulations to lower the cost of creating new housing in such areas, and instituting requirements or incentives to include affordable housing as part of new development.
Three housing rules currently waiting to be addressed are:
1) The Mortgage Relief Act which is set to expire at the end of the year. This Act relieves distressed homeowners from having to pay federal taxes on the amount of debt that was forgiven in a refinance or loan modification, short sale, or foreclosure. Efforts to extend or modify it into a replacement program would help stabilize the many families that have fallen into this category.
2) Bush Tax Cuts affect housing Bush Tax Cuts, known as the Tax Relief, Unemployment Insurance Reauthorization, and Job Creation Act of 2010, include provisions that reduce the tax rate on capital gains to a maximum of 15%. Due to expire, homeowners in the lowest two income tax brackets of 10 or 15 percent, now have long-term gains tax free and that will change if the tax cuts expire.
3) Mortgage Interest Deduction helps homeowners afford homes. It has been part of the federal tax code since 1913, helping many American afford to own a home. Either the U.S. needs to continue this or create a better replacement incentive.
"The hard work middle class Minnesotans have put toward stepping up their voice at the state level, forming new coalitions, supporting work preformed by the Shenehon Center for Real Estate at the University of St.Thomas, and calling on candidates to state their positions on housing and commit to their principles is paying off." says Thuening.
Contact Home Destination if you live in the Minneapolis area and have questions about your ability to buy a home and afford it's housing costs.