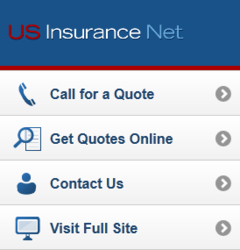 offering a sleak, easy to use interface for consumers using a mobile device
New York, NY (PRWEB) November 14, 2012
With more iPhones and Android phones being purchased each day than new babies being born, it's only a matter of time before all companies have a mobile website. US Insurance Net joined the ranks of companies offering a sleak, easy to use interface for consumers using a mobile device with the launch of their mobile site, m.usinsurancenet.com.
The mobile version of the site allows users to quickly get quotes by calling into US Insurance Net or by completing a quote online. Having the option to choose to speak with an insurance agent directly over the phone or to request quotes online gives consumers more control over the quoting process as well as helping them save money on insurance. Consumers are currently able to get free quotes for auto, homeowners, renters, life and health insurance.
The new site also allows consumers to contact customer service and still gives them access to the full US Insurance Net website that includes insurance reviews, tips and guides, a q/a section and more, all at their finger tips. As new updates are rolled out, more features will be available on the mobile site, making shopping for insurance and getting information easier than ever.
Taking away one other barrier from the insurance shopping process will not only help users save money, but time as well. Users can save up to 40% on insurance by comparing quotes from several companies without having to take time to visit each insurance site, fill in their information and repeat the process for additional quotes. At US Insurance Net, the consumer comes first and the more we can help them save, the better for everyone involved.
About US Insurance Net
US Insurance Net works hard to provide our users with a fast and simple way to get and compare insurance rates for multiple lines of insurance including car, home, renters, health and life insurance. Consumers can visit USInsuranceNet.com to complete a free, personalized profile and have insurance companies and brokers partnered with US Insurance Net, contact them to help them find the best home insurance coverage at the lowest price.