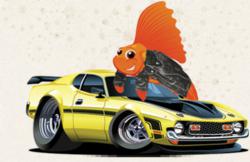 I certainly can't remember a time in my life when mortgage rates were this low, and if it happened I was definitely too young to remember it.
New York, NY (PRWEB) April 24, 2012
RoadFish.com men's lifestyle and finance magazine noted the remarkably low US mortgage rates currently gracing the housing market, in fact the lowest they've been in close to 40 years.
Beth Braverman reporting for CNN Money stated that if a homebuyer were to put down 20% on a mid-priced house (giving the example of a house priced at $154,400,) the monthly mortgage would work out to be $616. The article adds that a monthly payment of $616 is just 12.1% of the average US family income. Reportedly, 98 out of the top 100 metro areas are cities where it is now cheaper to purchase a home than to rent property according to online real estate company Trulia (Honolulu and San Francisco are the exceptions.) Braverman's article included a quote from IHS Global Insight economist Patrick Newport, who states, "If you have good credit, this is the best time in 40 years to buy." A credit score below 620 is generally seen as just okay, 620-650 is good, and above 720 is viewed as having excellent credit. Generally speaking, the higher your credit score, the better your mortgage deal.
According to Freddie Mac's Weekly Primary Mortgage Market Survey, the average rates in the past week for the four main types of loans have been as follows: 30-year fixed rate 3.9%, 15-year fixed rate 3.13%, 5/1 adjustable rate 2.78%, and a 1-year adjustable rate 2.81%. Freddie Mac's list of 30-year fixed rate mortgages (FRM) goes back to 1971, and even that's not far enough to show the rates getting anywhere near close to where they are in 2012. In 1972, the average rate for a FRM was 7.38%, and it simply went up from there. In 1985, the average rate was 12.43%, and in 1990 it was 10.13%. Rates have been decreasing fairly steadily since then. The past five years has seen an average rate of 6.34% in 2007, 6.03% in 2008, 5.04% in 2009, 4.69% in 2010, and 4.45% in 2011. For January, February, and March 2012, the average rate so far is 3.92%.
RoadFish.com's Senior staff writer is quoted as saying, "I certainly can't remember a time in my life when mortgage rates were this low, and if it happened I was definitely too young to remember it. My parents just refinanced their house and got a great deal. It's an unfortunate time for all those who lost their houses due to unemployment or loans they couldn't pay out, but for those who are shopping around for a house this is one hell of a good time to do it."
The above-mentioned CNN Money article stated that even trading up in this day and age can be worth it. It stated that even if you think the person purchasing your house is getting the best deal, you might very well find that you'll actually score a better deal on the next home you buy. The article reports that according to Zillow, prices for bottom-level properties have only improved in the last year, though top-tier prices are falling. Folks thinking about turning a home purchase into an investment are advised within the article to put at least 25% of the cost down, in order to get the best rate—usually a quarter to a half point higher than for the main residence.
About RoadFish
RoadFish.com is an online men's lifestyle and finance magazine targeted toward men in their 30's and 40's that have already attained a moderate level of success in life, and are striving toward more. It goes over current events of interest to this group, such things as exciting adventures, making money, consumer interests, hot chicks, and major league sports athletes as well as ways to make more and save more money. It is a publication owned by Purpose Inc.