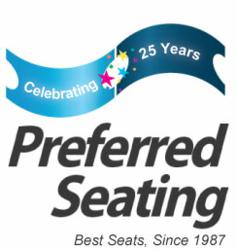 "Big names sell tickets," says Greg Cullen of Preferred Seating. "And there's none bigger in golf than Tiger Woods."
(PRWEB) May 15, 2013
Tiger Woods is bringing the heat to the sales for 2013 US Open Golf tickets as the odds-on-favorite to win. The tournament returns to Merion Golf Club on June 10 – 16. Fans have been buying up the grounds and Trophy Club passes recently for both the practice and the Championship rounds from the sports ticket brokers at Preferred Seating Tickets since Tiger won the Players Championship.
There hasn't been this much talk about the US Open since Rory Mcllroy won in 2011 but the interest is picking up for this year's tournament and Tiger Woods is helping to sell it out once again. Tiger has regained his form with four wins in the last seven events he has played in this year, and he's a 7-2 favorite to win this year's US Open. Because of the space constraints at Merion Golf Club, only 25,000 spectator tickets were made available, which is a lot fewer than most US Open tournaments typically accommodate.
The practice sessions start off on Monday June 10th and run through Wednesday. Golf fans have a choice of buying grounds passes which allow access to the course only, or Trophy Club passes which give you a grounds pass and the chance to cool off in the in an air conditioned pavilion with food and beverage service. The 1895 Club has it all with a free breakfast, lunch, afternoon snakes and drinks along with live coverage of the US Open from the air conditioned and spacious club.
Fans looking for the cheapest tickets for the US Open will want to check out any of the practice sessions. All the players will be there and it's often easier to get closer to the action but at a fraction of the cost of the Championship rounds which are played from Thursday through Sunday. The toughest part of the course will be wherever Tiger Woods is playing with all of the fans trying to catch a glimpse of the new comeback kid.
Preferred Seating Tickets has been selling tickets for the US Open for over 26 years and is one of the few sports ticket brokers that don't have hidden service charges added to the cost of US Open tickets. Fans can purchase tickets for all sports, concerts and theater events online at PreferredSeat.com.