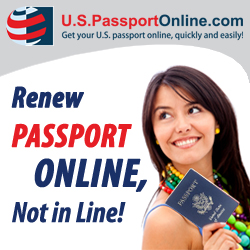 U.S. Passport Online can help you travel on short notice with ease and peace of mind
(PRWEB) September 21, 2012
Imagine being packed and ready for an extravagant trip abroad and just days before leaving, realize that US passport has expired or is missing. Devastating, right? It happens more frequently than you may think. During such a critical moment, wouldn't it be a relief to know that a passport can be renewed within 24 hours? Well, this is a possibility with U.S. Passport Online.com.
This full-service passport company guarantees fast and efficient service to U.S. citizens so they may renew passports conveniently and easily online without going through long lines and standard procedures. U.S. Passport Online offers extensive experience in the business and guarantees fast and efficient service that can address all your passport needs in as little as one day. Some of the key services provided by U.S. Passport Online includes new passports, passport renewal, child passports, and replacement of lost, stolen, damaged passports, passport name changes and additional passport pages.
An added benefit of the U.S. Passport Online is the exceptional customer service it guarantees. The team assigns a personal manager to the passport case who begins working on passport requests as soon as the order is placed. These personal managers are available via phone or online and supports you every step of the way from providing forms, completing paperwork and turning in completed application with accuracy and ease.
Passport applications with U.S. Passport Online are processed within 24 hours to two weeks, instead of the four to six weeks it takes with the standard service. This means fast and efficient service so customers can be focused on their trip rather than waiting in long lines.
U.S. Passport Online prides itself in having a top-of-the-line communications team which keeps in constant contact with the Department of State every day, and will stay connected on any updates about the status of customers' applications at all times. The agents are trained on a regular basis and are kept aware of any changes in the application process and any new Department of State regulations so that any issues are resolved expeditiously.
U.S. Passport Online also uses state-of-the-art encryption and security measures to protect its customers' personal data. Transactions are completely secure and safe and no personal information is ever shared with any outside parties. In addition, government-approved couriers ensure documents are safely submitted and returned to you on time. This is an added benefit so travelers can focus on the exciting adventures they have planned abroad or as close as Canada or Mexico.
When a passport needs to be renewed fast, U.S. Passport Online can help travel on short notice with ease and peace of mind. Privately-owned and specializing in the procurement of passports in the shortest amount of time, U.S. Passport Online provides fast and efficient services to help customers obtain their passport renewal quickly and securely.