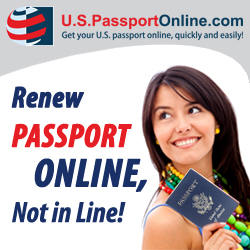 USPassportOnline.com has revolutionized passport renewal - a time consuming bureaucratic process
(PRWEB) July 13, 2012
Renewing US Passports was always problematic until uspassportonline.com developed its government-approved service. Going to a distant so-called local office, waiting in line, having to return with more information, then waiting four to six weeks are problems now eliminated. This established Web based service has revolutionized a time consuming bureaucratic process.
The key to their service is experience and competence. Efficiency is built into every step, and applications are fully compliant with the law. Personal data to and from the Internet platform is redundantly encrypted assuring privacy.
Although the process is Web based, real people work on the application as soon as you apply, and then at every step agents and staff oversee the procedure. Every customer has access to a trained agent by phone or online. Help is available normal business hours Eastern Time and Saturdays.
Customers never need to talk to a machine, and they are encouraged to call with any and all concerns. U.S. Passport Online is dedicated to customer service in word and in action.
In direct communication with the passport office, the processing team keeps applicants updated at every stage, and in the rare event of a problem both you and the agent are informed for quick action. Every agent's extensive training minimizes application difficulties, and when they are needed the team assures the fastest resolution possible.
Going to uspassportonline.com is the easy alternative for a complete range of services. Almost all services available directly from the government are streamlined online.
Traveling to Mexico and Canada, as well as the Caribbean and Bermuda, requires a passport or the new passport card. The card can be used at land crossings or seaports when returning from North American destinations. Both can be renewed quickly, securely and easily online. Traveling by air out of country always requires a passport.
It's important to renew passports before vacationing this summer, and the application can be processed in 24 hours. Renewing an expired passport, or one that will expire during the vacation, has never been so easy. On time passport renewal, and new applications, are hassle free at U.S. Passport Online — get it fast, get it right the first time.