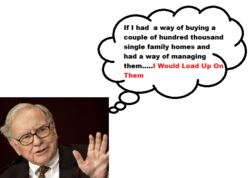 The opportunity to invest in USA Foreclosures in quality neighbourhoods is a window that will not remain open forever. Savvy Australian investors have realised that yields of 25% and Capital gains of 50% are just too attractive
Brisbane,Queensland,Australia (PRWEB) July 14, 2012
When Warren Buffett spoke about US real estate in the interview with Becky Quick of CNBC a few weeks ago, the market listened. Buffett said "If I had a way of buying a couple of hundred thousand single family homes and had a way of managing them....i would load up on them".
Today the Wall Street Journal headlined "Housing Passes A Milestone" and went on to talk about the new traction that the us real estate market was starting to generate. After 7 months of declines in the S&P/Case Shiller House Price Index, a bottom was reached and prices are now starting to go up. According to Mark Fleming of CoreLogic "The reduced inventory of unsold homes is key".
Meanwhile Australia's US real estate expert Phil Gerathy predicts ongoing strength in his prime market,Michigan, "Our Australian investors have still been buying at prices close to the bottom of the market despite Michigan's economic recovery outpacing the rest of the USA. Foreclosure levels were so high that inventory was flooding the market. Now investors have started to move in including Australians and the market seems to be underwritten,still at very low price levels."
The Detroit Free Press recently reported "A drop in home prices and record-low mortgage rates are combining to underpin demand and prompt builders to take on new projects." Michigan's unemployment rate was 8.5% at the end of May,down from 14.2% in August 2009 according to the US Bureau of Labor Statistics and the Comerica Bank Michigan Economic activity index has soared to well over 100 having been down around 60 in early 2009.
Gerathy says "The opportunity to invest in USA Foreclosures in quality neighbourhoods is a window that will not remain open forever. Savvy Australian investors have realised that yields of 25% and Capital gains of 50% are just too attractive compared to the crazy low yields and prospects of other investment classes. When we look back at 2012 we will likely realise what a watershed time it has been for US real estate, the chaotic period where everybody is running away but the economic fundamntals shout buy."
With US mortgage rates at extraordinarily low levels, Freddie Mac say 3.62% for a 30% loan is the norm, it will be a brave man that leaves it until 2013 to buy his US real estate investment property.
About USA Foreclosures Pty Ltd
USA Foreclosures allows Australian investors to easily buy and hold US real estate investments. They offer a full service that involves sourcing,buying,managing maintenance and finding and managing tenants as well as organising sales to liquidate investments and generate profits. The team assembled by MD Phil Gerathy includes men and women of great experience and integrity, creating wealth for Australians with or without self managed super funds.