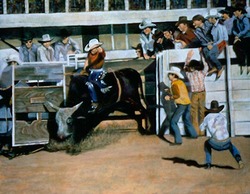 There never was a horse that couldn't be rode; never was a cowboy who couldn't be throwed.
Oracle, AZ (Vocus) February 2, 2010
Rodeos are a quintessential Western activity. No trip along US Route 89 in the western United States is complete without taking in at least one rodeo.
The rodeo is a uniquely American sport, having developed from the early cattle ranches in the 1700's. Actual ranch duties such as roping, riding, herding and branding were a part of a cowhand's job. It was not long before informal competitions developed among cowboys to determine who was the fastest and most competent at their various ranching skills. Long cattle drives became common during the 1800's, when cowboys herded cattle to stockyards in distant cities. After reaching their destination, groups of cowboys began a tradition of unwinding with informal competitions to see which outfit had the best riders, ropers and all around drovers. These gradually developed into the rodeo events seen today.
Nowadays, cowboys may hold various day jobs during the week, but on the weekends, they load up their horses, and head to the next rodeo, transformed into bucking horse riders, calf ropers and bull riders. There is perhaps no more exciting sport than watching a man and an animal try to get the best of each other. As the old cowboy saying goes, "There never was a horse that couldn't be rode; never was a cowboy who couldn't be throwed."
Many cities along US Route 89 hold annual rodeos, each with its own special qualities. They have become a part of the tradition of the people along the highway, and allow visitors to the West a peek into the past while enjoying a sport which remains vital today.
The 85th Annual Fiesta de los Vaqueros in Tucson, Arizona, opens on Saturday, February 20th, and runs through Sunday, February 28th. Each day, numerous events are scheduled, including bare back riding, barrel racing, steer wrestling and team roping. In addition, the Tucson Rodeo Parade, on Thursday, February 25th, features over 200 non-motorized floats on display over a 1 1/2 mile route. After the parade, rodeo events resume at ll am on the Tucson Rodeo Grounds, at 4823 South 6th Avenue.
Parada del Sol, in Scottsdale, Arizona, begins with a Tough Enough to Wear Pink parade starting at 10 am on February 20th. It is followed by the Trail's End Party, a huge, family oriented block party in Old Town Scottsdale. Entertainment, food and a kids area with pony rides and games, make this a fun event leading up to the rodeo on the following weekend. The rodeo starts at 7pm on February 26th and runs through Sunday February 28th at Westworld in north Scottsdale.
Scottsdale and Tucson are just a two hour drive apart. For a scenic drive on historic US Route 89 from Tucson to Scottsdale go north on Oracle Road to Highway 79 at Oracle Junction, continuing on to Florence and Apache Junction. Known as the Pinal Pioneer Parkway, this beautiful drive offers glimpses into pristine desert and a feeling for the open spaces cowboys once enjoyed. Be sure and stop at the Tom Mix Memorial for a picnic and a hike in the desert. A full week of rodeo activities can be enjoyed between the events in the two cities.
The "World's Oldest Rodeo" takes place in Prescott, Arizona, from June 28th through July 4th, where the cowboy and the rodeo play out the romantic ideal of the old west. In addition to the rodeo, Prescott's Frontier Days, which began in 1888, kick off the rodeo week, including a golf tournament, dances, a parade, a fine arts and crafts show, and culminating in a spectacular 4th of July fireworks display.
Continuing north on US Route 89, warmer summer weather means more rodeos including the Lake Powell Stampede Rodeo from August 31st to September 1st, in Page, Arizona, on the border of Arizona and Utah.
It seems that nearly every small town along US Route 89 in Utah stages a summer rodeo. A trip to Bryce Canyon and Zion National Parks could be combined with the unique experience of attending a rodeo in one of the towns close by. Mount Pleasant, Salina, and Logan are among the towns offering rodeo experiences this summer. Salt Lake City hosts the Days of 47 Rodeo from July 15th to July 22th.
Traveling on north to Wyoming, rodeos can also be found in many of the towns along US Route 89, generally in conjunction with county fairs. According to the Wyoming Travel and Tourism website, "Rodeo is more than a sport in Wyoming…it's a way of life that stresses the importance of ranching while giving prominence to an American hero and icon, the cowboy."
The Jackson Hole Rodeo is an on-going summer event happening on Wednesday and Saturday evenings during the summer. It is a local affair and most of the participants are from nearby ranches. Many are younger cowboys and cowgirls who want to polish their ranching skills and have a good time.
In Montana, rodeos can be attended in Belt on Father's Day weekend, June 19th and 20th, and in Choteau on July 4th. Livingston hosts the Round Up Rodeo of the Professional Rodeo Cowboy Association on Independence Day weekend. The Livingston Round Up Hoedown on June 27th kicks off the rodeo with a fun filled evening in Sacajawea Park.
A little research is bound to turn up a rodeo event at just about any town along US Route 89. Use the Road Trip Guides on the US Route 89 website to plan your trip. Going to a rodeo is a great way to round out a Western driving vacation and to get a taste of Western history and culture.
The US Route 89 Appreciation Society is a resource for planning a western road trip vacation and a place for sharing stories and photographs of this unique highway. It is part of the "slow road" movement that encourages travel on the two-lane roads that lead to the heart and soul of America. For more information, visit http://us89society.org/. Media Contact: James Cowlin, 602-944-3286, jim at us89society dot org.
###