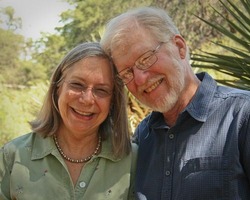 What makes life so fine on Route 89?
Oracle, AZ (Vocus) April 28, 2010
James and Barbara Cowlin are seeking answers to the question, "What makes life so fine on Route 89?", while driving 4,000 miles from Mexico to Canada and back on US Route 89. The ultimate goal of the road trip is to bring recognition to US 89 as America's most scenic highway. Supporters are lining up to fund the trip on their favorite section, national park or monument as the May 17th start date nears.
Bright and early on that Monday morning, the Cowlin's will hitch up their teardrop travel trailer and begin their journey in Nogales, Arizona. For the following thirty days, they will be asking residents, business people and fellow travelers to answer the question they have been asking themselves: What makes life so fine on Route 89?
"On our 2009 border to border road trip, we came up with the slogan, Life's So Fine on Route 89," explains James Cowlin, "because that was how we felt when we were on the highway. Now we want others to tell us how they feel about this unique road."
The Cowlin's have invited the public to participate in their adventure by sponsoring a section of the road for the trip. Sponsors can select from a list of road guides on the US Route 89 website or one of the twenty National Parks and Monuments along 89. A sponsor could also pick a few miles and contribute a dollar a mile.
Detailed information and a sign up form are available on the 2010 Road Trip Sponsorship page on the US Route 89 website. All sponsors will be recognized on the website and receive special rewards for their contribution during and after the trip. Supporters can contribute $100 for one of 19 uniques sections of highway 89 or one of the 20 national parks and monuments or they can select a smaller section for $1 per mile.
The Life's So Fine on Route 89 One-Month Mexico to Canada and Back Road Trip will take place from May 17 to June 16, 2010. Supporters are encouraged to sign up by May 1st.
The Cowlin's are also asking anyone who wants to answer the question, "What makes life so fine on Route 89?", to contact them to schedule an interview.
The US Route 89 Appreciation Society is a resource for planning a western road trip vacation and a place for sharing stories and photographs of this unique highway. It is part of the "slow road" movement that encourages travel on the two-lane roads that lead to the heart and soul of America. For more information, visit http://us89society.org/. Media Contact: James Cowlin, 602-944-3286, jim at us89society dot org.
###