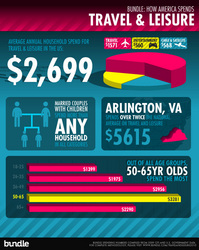 New York, NY (PRWEB) July 27, 2010
Bundle, the social money comparison site, released the sixth and latest installment of its consumer spending series, "How America Spends", focusing on annual travel and leisure spending. The latest report focuses on consumer behavior across travel, entertainment, and cable/satellite services. According to Bundle data, the average American household spends $2,699 annually on "travel and leisure." Residents of Arlington, Va., are far above average, ranking highest overall in travel and leisure, spending an average of $5,615 per household in 2009. Breaking down the numbers, Arlington also tops the travel sub-category ($3,534), while people who live in San Jose spend the most on entertainment ($1,304), and residents of Raleigh spend the most on cable and satellite ($1,033).
The travel spending category includes airplane tickets, rental cars, hotels, cruises, taxis, buses, and other vacation infrastructure; entertainment covers tickets to sporting events, concerts and other live events, amusement parks, bowling alleys, and gambling; while cable and satellite includes TV and Internet.
"We were curious not just about who spent the most in these very discretionary categories, but about where the people who allocated a greater share of their budgets and income to fun stuff were spending less to make up for it." says Janet Paskin, Bundle's managing editor.
"It turns out that people who spend a lot of their money on travel, for instance, tend to sink less money into home maintenance, electronics, and charity, whereas those with big entertainment budgets afford all those tickets by spending less on their cars, their phone bills, and, yes, TV."
Detroit, still feeling the effects of the recession, is listed at the bottom of sub-categories entertainment ($139) and cable/satellite (spending $219), but residents of the Motor City devote a disproportionately high percentage of their budgets to travel, compared to the average American household.
Bundle's numbers for How America Spends were compiled from sources including Citi and U.S. government spending data, and third-party research. More details can be found here. For detailed spending data on other U.S. cities and zip codes, go to Bundle's free spending tool, Everybody's Money.
Other highlights from How America Spends: Travel & Leisure:
1. The average American household spent $2,699 on travel and leisure in 2009
In 2009, U.S. residents averaged $1,571 on travel, $560 on entertainment, and $568 on cable and satellite services.
2. Boys just want to have fun?
In 2009 single men spent 30 percent more on travel and 28 percent more on entertainment than single women, on average.
3. It must be those free movie premieres
Hollywood, Calif., the entertainment capital of the U.S., spends just $325 on entertainment, 75 percent less than the top-spending city, San Jose, Calif. ($1,304).
4. Young people are still watching cable TV
And we thought Hulu was for the kids? People between the ages of 18 and 25 devote 23.3 percent more of their income to cable and satellite services than the average U.S. household.
5. Rankings of the top 15 Cities in all categories
(Note: These rankings were drawn from the 100 biggest cities in America. If your city is not shown here, Bundle can provide overall numbers for most mid-size and large cities. Bundle's Everybody's Money tool, which is free to use, also can provide zip code level spending information for many large cities.)
Top 15 Spending Cities – Travel
1. Arlington, VA - $3,534
2. San Francisco, CA - $3,460
3. Washington, DC - $3,409
4. Scottsdale, AZ - $3,372
5. New York, NY - $3,274
6. Fremont, CA - $2,976
7. Austin, TX - $2,852
8. Seattle, WA - $2,658
9. Reno, NV - $2,613
10. Oakland, CA - $2,562
11. San Jose, CA - $2,557
12. Boston, MA - $2,520
13. Jersey City, NJ - $2,517
14. Raleigh, NC - $2,421
15. Tucson, AZ - $2,413
Top 15 Spending Cities – Cable
1. Raleigh, NC - $1,033
2. Austin, TX - $970
3. Scottsdale, AZ - $918
4. Irvine, CA - $915
5. Tucson, AZ - $900
6. Durham, NC - $882
7. Washington, DC - $881
8. Arlington, VA - $850
9. Seattle, WA - $824
10. Madison, WI - $782
11. Dallas, TX - $775
12. Plano, TX - $775
13. Colorado Springs, CO - $766
14. Fremont, CA - $763
15. Boston, MA - $762
Top 15 Spending Cities – Entertainment
1. San Jose, CA - $1,304
2. Boston, MA - $1,257
3. Scottsdale, AZ - $1,257
4. Austin, TX - $1,250
5. Arlington, VA - $1,231
6. Saint Paul, MN - $1,127
7. San Francisco, CA - $1,116
8. Seattle, WA - $1,084
9. Minneapolis, MN - $979
10. Nashville, TN - $940
11. Washington, DC - $921
12. Phoenix, AZ - $843
13. Chandler, AZ - $835
14. Durham, NC - $816
15. Oakland, CA - $800
About Bundle
Bundle is a new social media company dedicated to helping people make smarter spending and saving choices through comparison, community and one of the most extensive collections of free spending data on the web. Bundle is based in New York and supported through investments from strategic partners that include Citigroup, Microsoft and Morningstar.
For a complete press kit, including an introductory video, screenshots of the site, and company bios, please visit http://www.bundle.com/press.
Media Contact:
Daniel Delson
646.805.2036
Steven Melfi
646.805.2826
press(at)bundle(dot)com
###