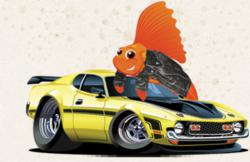 It hardly seems fair. These men and women are dedicating their livelihood to serving our country, and we can't get their taxes right?
New York, NY (PRWEB) April 18, 2012
RoadFish.com men's lifestyle and finance magazine spoke out today for the 60,000 military troops that owe a collective $390 million in back taxes to the IRS. RoadFish.com was saddened and appalled to find that there are evidently many holes in the system which resulted in this enormous amount of money due from the men and women who are serving our country.
Andrew Tilghman of the Air Force Times reported that according to data from the Internal Revenue Service, approximately 30,000 active-duty troops as well as another 30,000 reserve-component members owe the IRS a total of $390 million in back taxes. If divided evenly, that works out to $6,500 per person. Reasons for the foul-ups are listed as frequent moves, deployed troops missing important IRS query deadlines, and confusion regarding eligibility when it comes to certain tax breaks that active duty troops can earn from serving in combat zones. Tilghman includes a statement from Theresa Buchholz, a lead tax research analyst at H&R Block Services: "Military tax returns are a little more complicated. It can be confusing because it's hard to know what to include and what not to include [under the combat zone exclusion policy]."
It appears that this is far from the first time something like this has happened to a service member. The article included the story of Navy Lieutenant Commander Steven Millard who went on back-to-back deployment a few years ago, resulting in a move for him and his family. He is quoted as saying, "[It] took me two years to clear up a post deployment and get the money back I had to submit to stop the insanity of fines and interest." He blames his complicated and costly tax problems on his military deployment and subsequent move.
RoadFish.com was not pleased to hear that so many service men and women will be getting this bad news after their loyal military service. RoadFish.com's Senior staff writer even recommended that the troops look into taking action such as getting a free credit score check, to make sure that everything is in line with their credit so there are no other major financial surprises when they come home from deployment.
Evidently the frequent moves of service members are behind a large amount of the tax foul-ups. According to the above-mentioned Air Force Times article, if tax documents were mailed to the wrong address, and never reach certain service members, then they can mistakenly file incomplete tax returns. A recent move will result in the subsequent missing of a notification letter, and thus the taxpayer will fail to seize the chance of fixing the issue before the deadline runs out. Michael Sullivan, the owner of tax service company Fresh Start, stated, "A lot of times that notice does not catch up to where they are actually living, and the IRS is only obligated to send the notice to the most recent address on file. If the IRS can't contact you, you're going to get an enforcement action."
RoadFish.com's Senior staff writer is quoted as saying, "It hardly seems fair. These men and women are dedicating their livelihood to serving our country, and we can't get their taxes right? The IRS and the military need to figure out a new arrangement to work out the kinks in the system, and apparently there are lots of them. I've got friends and family in the military, and God knows that they have more important things to worry about than how much they or their families will owe Uncle Sam when they get back from deployment."
According to Tilghman's military article, by law the IRS is required to notify military financial service offers in the event that a service man or woman is found to have a tax delinquency. The military will then look into the alleged claim, and if it is found that the service man or woman in question is either deployed, or has been hospitalized due to an injury sustained in combat, the military will take action to halt the IRS enforcement measures.
About RoadFish
RoadFish.com is an online men's lifestyle and finance magazine targeted toward men in their 30's and 40's that have already attained a moderate level of success in life, and are striving toward more. It goes over current events of interest to this group, such things as exciting adventures, making money, consumer interests, hot chicks, and major sporting events as well as ways to make more and save more money. It is a publication owned by Purpose Inc.
###