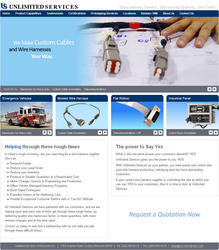 Oconto, Wisconsin (PRWEB) October 29, 2009
Unlimited Services of Wisconsin, the company who sets the industry-standard in wire harness and cable assembly manufacturing, launched its new website in mid-2009.
The new website features Unlimited Services' wide variety of manufacturing capabilities including wire harnesses, molded cable assemblies, industrial wire harnesses, and control panel assemblies. The new website features enhanced navigation, website usability and functionality, incorporating Unlimited Services' acquisitions of Trans World Connections and Kenwood Electrical Systems product and service offerings on one site, to create a tremendous user experience and a single source supply.
Unlimited Services forms a partnership with customers, helping each and every one prosper in these tough economic times by delivering quality custom wire harnesses and custom cable assemblies faster, in lower quantities, with more revision changes and at the best value. Through these unique partnerships, Unlimited Services helps to reduce lead times on orders, build rapid prototypes, and expedite orders at no additional cost.
Unlimited Services' U.S. plant locations have the ability to prototype, manufacture in low volume, and provide quick turn-around on wire harnesses and cable assemblies. Unlimited Services has an ISO 9001:2000 certified plant in Guaymas, Mexico to produce higher volume cable and wire harness assemblies at a more competitive price.
About Unlimited Services of Wisconsin:
Unlimited Services is a privately held company with headquarters in Oconto, Wisconsin, currently celebrating over 27 years of operation. Unlimited Services is a major presence in the value-added business of custom wire harnesses, cable and control panel assemblies for off-road equipment, emergency vehicles, heavy duty trucks, and specialty electronics and industrial industries.
About Top Floor Technologies:
Top Floor Technologies delivers strategic internet marketing solutions focused on generating more leads, sales, and conversions for their clients. A results-focused agency that provides website development, search engine marketing, web analytics, and conversion improvement. Top Floor Technologies optimized the new website for Unlimited Services using the core onsite SEO and off-site SEO techniques to bring lasting results. For more information, please visit us at: topfloortech.com
For more information contact:
Unlimited Services of Wisconsin
170 Evergreen Road
Oconto, Wisconsin 54153
414-755-0040
(920) 834-4418
Top Floor Technologies
Shane Fell
Vice President Sales & Marketing
2425 S. 162 St.
New Berlin, WI 53151
1.888.947.4400
###