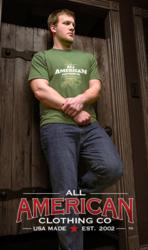 The 'poster child' for USA made clothing continues to grow as they create new products.
Arcanum, Ohio (PRWEB) May 06, 2013
All American Clothing Co. today announced a new line of tee shirts. Three new styles have been designed and added to its inventory with high quality expectations. They are also sold at an affordable price that will allow anyone to wear a USA Made tee shirt. All American Clothing Co. allows the consumer to rate the product and help the manufacturer make adjustments to the design and pattern of their items. This allows the consumers who care about USA made products to make suggestions for the next production line. This process has helped the American made clothing company grow in recent years as they continue to listen and develop a strong relationship with their customer base. A great relationship with its customers has resulted in a high level of return buyers.
The new USA made tee shirts are available in the three styles of a 'Freedom Eagle Seal', 'Logo Tee', and 'Premium Quality Denim.' All feature a distressed design printed on the front of a heavyweight 6.1 oz, 100% cotton American made tee shirt. The All American style and durability of the tees make them perfect for work or play. The new tee styles will join a wide selection of American made jeans, short, shirts, footwear, and accessories.
One purchase from All American Clothing can help the American economy in many ways. For example, the clothing is made in the USA, the box it was shipped in was made in the USA, the website is hosted by a USA company, the shipping companies are all from the USA, and the people who make and deliver the clothing are U.S. citizens. Purchasing one made in USA shirt or a pair of jeans affects many jobs in many different industries.
About All American Clothing Co.
All American Clothing is a success story that continues to prove the American dream can still be achieved. The entire company supports a "USA Made passion" as they strive to foster loyalty among customers. All American Clothing Co. is conceivably the poster child for American made small business success stories. To find out more about the passion and effort it takes to build a business in today's economy please visit http://www.allamericanclothing.com. 888-937-8009.