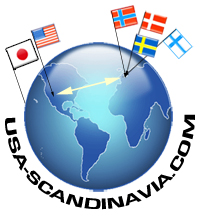 USA-Scandinavia, personal shoppers for Scandinavians in America, turns 4 years old.
(PRWEB) October 04, 2011
USA-Scandinavia.com, a personal shopping service for Scandinavians seeking to purchase American products, has just had it's 4th birthday. Along the way, they have now helped over 2,000 Scandinavians save money on hard to find items.
"We help our customers buy so many different items, it's hard to say which brand is the most popular," said Bente Fajardo, CEO and co-founder. "We just never know what's going to be requested next. However, I'd have to say that the most popular things we buy for our clients are from the big name clothing brands such as Ralph Lauren, Quiksilver, Tommy Hilfiger, Patagonia,Levis, Nike, Asics, Adidas, and the Gap."
Their clients are usually individuals from Norway, Sweden, Denmark, the Netherlands, Switzerland, and Germany. However, with such a high demand for their service, they are now doing business in Japan as well. Last summer they were contacted by Harry Fukuzawa, who wanted to help them expand to Japan, as he knew there was a similar need in his home country. This has already proven true, with numerous orders coming from Japan on a daily basis.
By offering a friendly and personalized shopping service for practically anyone abroad, USA-Scandinavia.com looks forward to helping the next 2,000 customers save money on items not usually available in their homeland.
###