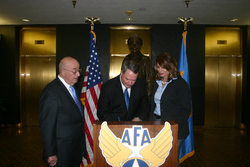 The Air Force Association and USAA share a common goal – taking care of those who serve this great nation and their families
San Antonio, TX (Vocus) March 13, 2010
More than 121,000 Air Force Association members now can take advantage of a comprehensive suite of financial services from one of the nation's highest rated* financial services providers, thanks to an agreement just signed with USAA.
USAA, a leading financial services provider for the military community, now is the preferred provider for checking and savings accounts, certificates of deposit and investment products – all delivered with USAA's award-winning customer service.
"We are extremely pleased to welcome USAA as a benefit partner," said AFA President and CEO Mike Dunn. "This relationship will enhance our banking and investment products in the years ahead with a company that has been a safe harbor for millions of military members and their families during a tough economic time. One thing's certain – USAA has an 88-year-record of financial strength and support for those in uniform and we're glad to be on the same team."
For USAA, the agreement is a natural evolution of its ongoing efforts to help facilitate the financial security of members of the U.S. military and their families.
"The Air Force Association and USAA share a common goal – taking care of those who serve this great nation and their families," said retired Chief Master Sgt. Eric Benken, USAA Air Force programs manager and the 12th Chief Master Sergeant of the Air Force. "Both organizations understand the complexities of military service and recognize the courage and sacrifice of those who wear the uniform."
Benken, a life member of AFA, believes that together, AFA and USAA "will continue to provide members a legacy of tremendous value and customer service."
The agreement with USAA fills the gap left when AFA's former provider, Waterfield Bank of Germantown, Md., was closed March 5 by the Office of Thrift Supervision. The Federal Deposit Insurance Corporation has been appointed as receiver and AFA is recommending its members utilize USAA for deposit accounts effective immediately.
Those who want to learn more about USAA can call (800) 531-8722 or visit usaa.com. To learn more about AFA membership, call (800) 727-3337or visit http://www.afa.org.
About AFA
The Air Force Association (AFA) is an independent, nonprofit, civilian education organization promoting public understanding of aerospace power and the pivotal role it plays in the security of the nation. AFA publishes Air Force Magazine, conducts national symposia and disseminates information through outreach programs. It sponsors professional development seminars and recognizes excellence in the education and aerospace fields through national awards programs. AFA presents scholarships and grants to Air Force active duty, Air National Guard and Air Force Reserve members and their dependents; and awards educator grants to promote science and math education at the elementary and secondary school level. Additionally, AFA publishes a wide range of materials on http://www.afa.org.
About USAA
USAA provides insurance, banking, investment and retirement products and services to 7.4 million members of the U.S. military and their families. Known for its legendary commitment to its members, USAA is consistently recognized for outstanding service, employee well-being and financial strength. USAA membership is open to all who are serving or have honorably served our nation in the U.S. military – and their families. For more information about USAA, or to learn more about membership, visit usaa.com.
*Ranked highest named bank on Forrester's 2010 Customer Advocacy Ranking; Superior rating from IDC Financial Publishing; Office of Thrift Supervision Outstanding Community Reinvestment Act Rating; Highline Banking Data Services Top 25% of peer group. With $31.8 billion in deposits, as of June 30, 2009, USAA Federal Savings Bank is 23rd largest bank in the nation.
###