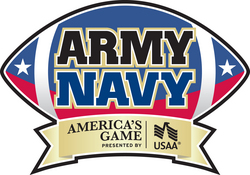 We are proud to be able to team up with USAA for sponsorship of this cherished and respected event
Annapolis, MD (Vocus) July 21, 2009
The United States Naval Academy and United States Military Academy announced Monday that financial services leader USAA has signed a 10-year agreement to be the presenting sponsor of the annual Army-Navy football game.
USAA is among the premier providers of banking products, insurance, investments, and financial planning to current and former members of the U.S. military and their families - including the Cadets and Midshipmen from the two academies.
"We are proud to be able to team up with USAA for sponsorship of this cherished and respected event," said Naval Academy Director of Athletics Chet Gladchuk. "Army, Navy and USAA will become synonymous over the next few years as we collectively accentuate the history, tradition and competitive spirit of this national treasure. We are ecstatic that USAA and its 7 million members have joined our team."
"USAA has proven time and again to be a tremendous supporter of the intercollegiate athletic programs at both Army and Navy," said Army Director of Athletics Kevin Anderson. "We displayed great care in choosing the appropriate partner for this endeavor and we feel we selected the perfect organization to properly represent America's Game."
"I think more than a few USAA employees and members feel they have something of a personal stake in the Army-Navy game," said retired Army Maj. Gen. Joe Robles, USAA president and CEO. "Our company was founded by military members for military members. So it's an honor for us to work with the academies to secure the long-term success and visibility of America's Game."
The sponsorship will help support the two athletic departments and follows the 10-year CBS television network broadcast coverage agreement of the last regular-season college football game, now scheduled for the second Saturday in December.
This year's game is scheduled for 2:30 p.m. EST, Dec. 12, at Philadelphia's Lincoln Financial Field. CBS Sports and American Forces Radio & Television will broadcast the game around the world.
In addition to this year's game, Philadelphia will also host the game in 2010, 2012, 2013, 2015 and 2017. The rivalry moves to Washington, D.C., in 2011, while Baltimore plays host in 2014 and 2016.
About USAA
USAA, a diversified financial services group of companies, is among the leading providers of financial planning, insurance, investments, and banking products to members of the U.S. military and their families. For the past three years, BusinessWeek magazine ranked USAA among the top two "Customer Service Champs," highlighting our legendary commitment of providing highly competitive financial products for approximately 7 million members. For more information about USAA, or to learn more about membership, visit usaa.com.
Contact:
John Hancock
(210) 913-5054
USAA Public Communications
http://www.usaa.com
On Twitter @USAA_News
And FaceBook @USAA
###