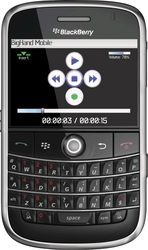 generation technology and workflow platform
Chicago, IL (PRWEB) April 10, 2009
Becker & Poliakoff, a diversified commercial law firm with more than 125 attorneys in 13 Florida offices, New York City and international offices, today announced that it has successfully rolled out the award-winning BigHand Digital Dictation workflow system across the firm. BigHand technology is replacing a previous pilot system, not geared toward the workflows and production needs of Becker's attorneys and their staff.
Becker Poliakoff, which first looked at digital alternatives to tape-based dictation in 2007, completed an extremely smooth and well executed roll-out of BigHand, on time and within the original scope of the project. Since digitally dictating with BigHand, the firm has greatly increased user adoption; enhanced its ability to share work across multiple support staff; successfully promoted more active team work across its network of offices, and increased overall staff productivity. In addition, the firm has been able to leverage BigHand's mobile capabilities via remote access on BlackBerry devices as well as Citrix.
Now, office managers and IT liaisons at the firm can maintain voice productivity for their office without needing to call help desk or central IT. BigHand has empowered them to see what is going on in their own office and help clear document production blockages or delays themselves.
Nicole Cantin, Becker & Poliakoff's Application Administrator and point-person throughout product selection, testing, implementation and office-wide roll-out, was particularly excited by the quality of the new vendor partnership. "The entire BigHand team, from sales, to tech support, to project management, has been amazing, professional, and able to meet every challenge while providing very efficient and clever solutions. We all truly worked together on this roll-out and take great pride in how the firm has embraced BigHand as our "next" generation technology and workflow platform," concluded Ms. Cantin.
To further increase user buy-in, the firm maintained an open policy when it came to the use of legacy digital devices based on user preferences. BigHand software offers backward compatibility to existing and older legacy hardware and this flexibility opened up the dictation product offering even further to meet the needs and workflows of Becker & Poliakoff attorneys.
"Becker & Poliakoff knew exactly what they needed and wanted from a voice productivity offering such as BigHand. We wanted to guarantee a smooth transition and an exhilarating administrator and user experience- especially after the bad experience and lack of service and support they had gotten from previous system providers," stated Steve Butterworth, President, BigHand, Inc.
In addition to dramatically increasing the speed of document production and work-sharing, BigHand's mobility options have given staff even more flexibility when dictating off-site, at home, at a client' s office, or at court. "I fully utilize BigHand's mobile tools. With my BlackBerry, I can dictate from home, in the car, or while I am traveling without taking a separate dictation device along. I also love the fact that dictation files are sent to my staff remotely from anywhere at the push of a button," said Allen Levine, Shareholder, Becker & Poliakoff.
About Becker & Poliakoff P.A.:
Becker & Poliakoff is a diversified commercial law firm based in Ft. Lauderdale with more than 125 attorneys in 13 Florida offices, New York City and international and affiliated offices in the Bahamas, Czech Republic, France and Israel. The firm's core areas of practice include Real Estate, Condominium and Homeowners Association Law, Construction, International Trade & Customs, Government Law & Lobbying, Civil and Commercial Litigation, and Corporate, Securities & Tax Law. For more information, visit: http://www.becker-poliakoff.com.
About BigHand
BigHand is based out of Chicago, London, Sydney and Toronto. BigHand is the leading digital dictation vendor in the global professional services sector. BigHand3 was awarded 'Best of Breed System of the Year' at the Legal Technology Awards for 2008, and BigHand Mobile (BlackBerry Edition) was voted 'Mobile Product of the Year' at the CNET Business Technology Awards 2008. BigHand has also been nominated in the Sixth Annual Law Technology News (LTN) Awards for 2009 as 'Dictation System of the Year' and 'Mobile Tool of the Year'. Further information is available at Digital dictation.
Contact:
Dan Speed, VP Marketing, BigHand. Tel: +1 312 893 5906, dan.speed @ bighand.com
Jobst Elster, Envision Agency. Tel: +1 850 459 4947, elster @ envisionagency.com
###