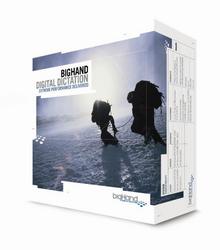 The entire rollout and implementation process has gone very smoothly thanks in part to BigHand's staff and their collaboration with the Foley team, especially during the initial Jacksonville pilot program and the subsequent Florida office rollouts
Chicago, IL (PRWEB) October 14, 2008
BigHand Inc, the market leading developer of digital dictation workflow systems for the legal community, today announced that Foley & Lardner LLP has selected and actively deployed its BigHand3 digital dictation application in 17 U.S. offices. The 1,000 attorney firm replaced antiquated tape-based technology with BigHand's award-winning digital dictation application designed to provide the firm with increased administrative productivity, and enable its attorneys, both remote and at the office, to send instructions and draft documents via voice, expediting client service. BigHand currently has over 700 law firms worldwide using its enterprise dictation workflow software, and is nominated in the Sixth Annual Law Technology News (LTN) Awards 2009 as 'Dictation System of the Year' and 'Mobile Tool of the Year'.
Foley, which was recently recognized by Wellesley, Massachusetts-based BTI Consulting Group as one of the top four law firms shaping the U.S. legal market, followed a thorough vendor selection process based on a weighted analysis of various relevant criteria including technology infrastructure, system functionality, and user preferences. In the end, the firm chose BigHand based on the digital dictation software's usability, BigHand's ability to adhere to Foley's business requirements, competitive pricing, limited impact to existing business processes, and references of other law firm users.
"We selected BigHand based on their experience, track record within the law firm community, and the sound technology that now allows our attorneys to more effectively draft documents and send instructions to support staff, in turn enhancing client service. Overall, in terms of the high benchmark we set for vendor relationships, BigHand has delivered 100%," stated Doug Caddell, Foley's Chief Information Officer.
Currently, BigHand is rolled out and in use among 861 Foley users, including 438 attorneys and paralegals. The roll-out, which started with the firm's Jacksonville office in October 2006, has gained in efficiency, and now averages 6-8 weeks per new office brought LIVE versus the 12 weeks per office originally planned. In addition to one-on-one desk side user training, Foley has designated learning coaches in each office to facilitate training and user adoption of BigHand.
"The entire rollout and implementation process has gone very smoothly thanks in part to BigHand's staff and their collaboration with the Foley team, especially during the initial Jacksonville pilot program and the subsequent Florida office rollouts," said Jennifer Young, Project Manager, Foley & Lardner. "Mainly though, it is the reliable BigHand technology, both easy-to-install and use, that has made a world of difference."
Chris Steinmetz, a Partner in the Milwaukee office, who participated in the initial vendor selection process, and was part of the initial BigHand pilot group, has been using BigHand for over two years: "I am an early adopter of the BigHand digital dictation and am very pleased. The handheld device has controls that fall easily to hand and has many options that allow me to configure it to my dictation style. Favorite features include being able to separate items of dictation with a digital mark and being able to insert text in the middle of a document, a feature not available on analog tape systems. It is also helpful that I can simply set the handheld device in a cradle and my dictation is automatically forwarded to a pool that is accessible to my assistant and others who might have time to transcribe my work. As a heavy traveler, I value the BigHand feature that allows me to dictate by phone using the key pad to control functions and to have that dictation available to assistants who may be working after hours or on weekends. BigHand is a tool that increases my productivity as an attorney."
Steve Butterworth, President & CEO, BigHand Inc, commented: "We are very excited to have a top firm and technology leader like Foley join the BigHand family in North America. In working with Foley on this very intricate and comprehensive rollout, we have realized how closely our respective organizations are aligned when it comes to business approach and technology philosophies. With 700 legal clients we understand law firms, and know you have to get it right first time."
For more information about BigHand Digital Dictation, please visit http://www.bighand.com or email inquiry @ bighand.com
Contact:
Dan Speed, VP Marketing, BigHand. Email: dan.speed @ bighand.com Tel: +1 312 893 5906
Jobst Elster, Envision Agency. Email: elster @ envisionagency.com Tel: +1 850 385 4599
About Foley & Lardner LLP
Foley & Lardner LLP continually evolves to meet the changing legal needs of our clients. Our team-based approach, proprietary client service technology, and practice depth enhance client relationships while seeing clients through their most complex legal challenges. The BTI Consulting Group (Wellesley, Massachusetts) recently recognized Foley as one of the top four law firms shaping the U.S. legal market, while CIO magazine has named Foley to its CIO 100 list six times for our client-focused technology. With more than 1,000 attorneys in 22 offices and more than 50 practices, Foley strives to provide high-caliber business and legal insight. Learn more at FOLEY.com
About BigHand
BigHand is based out of Chicago, London, Sydney and Toronto. BigHand is the leading digital dictation vendor in the global professional services sector. BigHand3 was awarded "Best of Breed System of the Year" at the Legal Technology Awards for 2008, and BigHand Mobile (BlackBerry Edition) was voted 'Mobile Product of the Year' at the CNET Business Technology Awards 2008. BigHand was named as the fastest growing legal software developer in The Sunday Times Microsoft Tech Track 100 league tables for both 2006 and 2005. Additionally BigHand was voted "Best Legal Office Technology System 2004" from votes from over 14,000 lawyers and IT managers across the legal sector at the LOTIE Awards. BigHand's leading product also won the Society for Computers & Law IT Award in 2003 for "the most outstanding application of information technology to the law". Further information is available at http://www.bighand.com
###