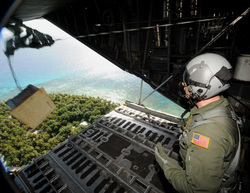 Andersen Air Force Base, Guam (Vocus) December 15, 2009
U.S. Air Force C-130 aircraft will parachute more than 20 tons of donated items to Pacific Islanders throughout Micronesia during the 58th annual "Operation Christmas Drop" December 16-19.
Operation Christmas Drop is the longest running organized air drop in the world and one of the largest charity efforts in the Pacific. Through the cooperation of local and military communities in the Asia-Pacific region, Operation Christmas Drop has delivered over 800,000 pounds of much needed food, supplies, tools, and toys to thousands of residents living on remote islands throughout Micronesia.
The operation started in December of 1952 when locals on the island of Kapingamarangi waved to the crew of a USAF WB-50 flying overhead. In the spirit of the holiday season, the Airmen gathered what supplies they could, packed them into a canister, attached a parachute and dropped the goods to the islanders.
Today, the men and women of Pacific Air Forces, the University of Guam, local government, businesses, individuals and professional and charitable organizations work together to raise money and collect merchandise to deliver toys, clothing, fishing equipment, sporting goods, food items and tools to the remote islands and atolls in the area.
Video footage and photos of loading the supplies on the aircraft is now available on the Digital Video& Imagery Distribution (DVIDS) web site at: http://www.dvidshub.net/?script=video/video_show.php&id=74863. Video footage and photos of the C-130 air drop missions will be available on the DVIDS site Dec. 16-19.
Airmen participating in Operation Christmas Drop will be available for interviews. Interested media outlets should contact the 36th Wing Public Affairs officer (Capt. Tim Lundberg) at timothy(dot)lundberg(at)andersen(dot)af(dot)mil, 671-366-5606 or 671-687-4892. News media can also contact Pacific Air Forces Public Affairs at pacaf(dot)paops(at)hickam(dot)af(dot)mil or 808-448-3218.
USAF OPERATION CHRISTMAS DROP 2/2/2
Additional Background Information

o Yokota AB Fact Sheets: http://www.yokota.af.mil/library/factsheets/index.asp
o USAF C-130 Fact Sheet: http://www.af.mil/information/factsheets/factsheet.asp?id=92

Andersen Air Force Base, Guam, is home to PACAF's 36th Wing:
o Fact Sheets: http://www.andersen.af.mil/library/factsheets/index.asp
###