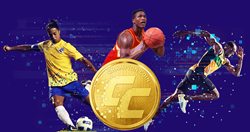 "We want every man to feel like a champion at an affordable price and blockchain technology is enabling us to do just that." Usain Bolt, Co-Founder
NEW YORK (PRWEB) October 21, 2018
Champion Shave today announced their plan to implement blockchain-based solutions for Champion Shave's global supply chain, customer data management system, and corporate expansion. They recently patented the world's first 100% recyclable disposable razor, which will be processed and shipped to vendors on the forthcoming blockchained supply chain system.
Champion Shave is a global brand that already sells its razors to millions of customers in Walmart, Kmart, Pequeno Mundo, Bodega Aurora, Megamart, Fybeca, Sana Sana, Extrafarma and thousands of independent stores across 17 countries.
"Champion Shave has been delivering the 'champion' feeling to millions of men since 2016," Manny Bains, CEO, said. "We are revolutionizing the $47B men's grooming industry and know the only way to do this properly is to implement forward-looking technologies, like blockchain and environmental-friendly products."
"Blockchain technology will enable Champion Shave to track every detail of their supply chain end-to-end; greatly reducing costs and increasing efficiency by providing an open, immutable, global, online ledger for tracking freight movement," Bains continued.
Through an ICO (Initial Coin Offering), Champion Shave will expand its global presence with its e-commerce franchising system powered solely by its own cryptocurrency called Champion Coin, offering a zero franchise fee initiative for our e-commerce platform.
Champion Coin and the Champion Shave Ecosystem curtails expenses by eliminating middle-men and fees in cross-border transactions; tracking billions of pieces of freight globally, and by rewarding its customers with discounts and experiences designed for champions.
ICO Campaign
The Pre-ICO will kick off on October 29, 2018 at 09:00 JST and is supported by a large marketing campaign, skillfully coordinated to appeal to crypto-enthusiasts and sports fans alike.
Mr. Trezeguet will be attending the Malta Blockchain Summit on November 1st on behalf of Champion Shave's Champion Coin ICO. "I am excited for the launch of Champion Shave's cryptocurrency," Trezeguet said. "A coin that will be used by our vendors, customers, suppliers, and franchisees through our blockchained ecosystem."
"We want every man to feel like a champion at an affordable price and blockchain technology is enabling us to do just that," Usain Bolt, Co-Founder, said.
About Champion Shave
Champion Shave was founded in 2016 by Usain Bolt, Ronaldinho Gaúcho, and Dominique Wilkins. Headquartered in Miami, Florida, our team has sold over 10 million units to thousands of vendors in over 17 countries, with a mission to offer men from all over the world a high-quality razor at an affordable price.
Focusing on revolutionizing the $47B a year men's grooming industry, we are conscious of our consumer's needs as well as our environmental impact. Champion Shave's in-house research and development team has created a line of patented, eco-friendly razors that provide a comfortable, clean and ergonomic shave.
The success of our Champion Shave product line has attracted millions of day-to-day champions from around the world, who believe in our mission and purpose.
Join the League of Champions at ChampionShave.io.