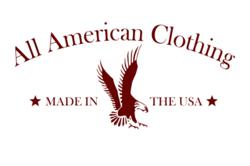 Arcanum, OH (PRWEB) July 21, 2011
In spite of a disastrous cotton market, a tough economy and the climbing cost of USA apparel , this 9 year USA Company has grown revenues yearly. The company has been considered a poster child for small business. In 2010 the growth rate was 65%. It is a higher rate in 2011. The All American Clothing Co. fosters an environment that entices employees to follow a strategy that satisfies customers and increases the company exposure. Employees have the opportunity to put themselves into the shoes of the customer. Then come up with a strategy to accommodate the customer with our mantra; World Class Service and World Class Product. All employees have the level of authority to decide when they need to support the customer wishes. The main key is to have employees who understand the importance of customer satisfaction.
Co-Owners Lawson and BJ Nickol say, "Everyone of our crew genuinely believes USA Made matters. Each has a true passion to help patrons who want to buy USA products. All American Clothing employees are diligently trying to offer a satisfying experience for every patron. We also do our best to help all customers understand the value of USA Made. This kind of employee freedom tends to have them enthusiastically come into work. They enhance our customers desire to come back".
The Nickols indicate the company has one of the industry's lowest return rates and also offer a functional long term guarantee. Most of these "customer satisfaction ideas" and levels of authority have come as a suggestion from our employees.
All American Clothing Co. celebrates the passion, the effort and the ingenuity of their employees. They care about our country, our patrons and the jobs that all Americans so dearly need today. Does this sound like a strategy for success? Well, yes and no… there is much more to it and this company has a site http://www.AllAmericanClothing.com that offers much more information. But now you know the critical ingredients: USA jobs, employee passion and customer satisfaction.
All American Clothing Co. announces its 9th year of growth due primarily to employee efforts and patrons who understand USA Made matters! "Congratulations and job well done!".
###