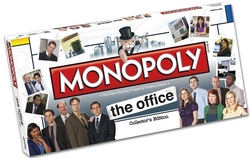 From buying, selling and trading memorable locations featured in the show, to traveling the board with any one of six collectible tokens, the game will have family and friends reliving the hilarious episodes.
Universal City, CA (Vocus) May 5, 2010
MONOPOLY®: "The Office" Collector's Edition, hits store shelves this June and is the first and only game that combines the classic risk taking, deal making MONOPOLY® game play with the popular television comedy where fans of the comedy will vie for control of their favorite "Office" locations. "The Office" MONOPOLY® game is made by USAOPOLY under license from Hasbro® and NBC Universal Television, DVD, Music and Consumer Products Group and Reveille LLC. The deal was secured by JTMG, the licensing agency for NBC Universal Television Consumer Products Group.
"Fans of 'The Office' will love this game," said John M. Davis, President, USAOPOLY. "From buying, selling and trading memorable locations featured in the show, to traveling the board with any one of six collectible tokens, the game will have family and friends reliving the hilarious episodes in their quest to own it all in the wonderful, wacky world of "The Office."
"We're looking to extend the MONOPOLY® brand in fun, unique ways that fans of "The Office" will really identify with," said Maggie Matthews, Vice President of Marketing, USAOPOLY. "The cast of quirky characters, iconic locations, custom money called Schrute Bucks, plus Boxes and Reams of Paper, standing-in for the classic MONOPOLY® houses and hotels, gives fans a fantasy hands-on experience of being part of 'The Office'."
"We are really pleased to launch another great game for 'The Office" with USAOPOLY," said Kim Niemi, Senior Vice President, NBC Universal Television Consumer Products Group. "The off-beat humor of the show, cast of characters and settings provide great fodder for games that we know are sure to be a hit with fans and collectors alike."
This new take on the classic MONOPOLY® game transforms the traditional game board properties into popular locations in "The Office" such as Dunder Mifflin Scranton or Michael's Condo. In addition, players might land on "RUDIT-DIT-D'DOO!" (Community Chest), "That's what she said!" (Chance), Donation to Rabies Fun Run (Luxury Tax), or Buy a Hug from Phyllis at Crime Aid Auction (Income Tax).
Traditional MONOPOLY® real estate, railroads and utilities are replaced with "The Office" locations vehicles and businesses that include:

Dunder Mifflin Corporate NY (Boardwalk)
Dunder Mifflin Scranton (Park Place)
Dunder Mifflin Stamford, Vance Refrigeration, Café Disco (Green properties)
Schrute Farms, Michael's Condo, Pam & Jim's House (Yellow properties)
Taekwondo Dojo, Lake Scranton, Slater Falls Hotel (Red properties)
Company Picnic Park, David Wallace's House, Scranton Mall (Orange properties)
Scranton Business School, Scranton Art Center, Scranton Hospital (Magenta properties)
Dunder Mifflin Nashua, Angela's House, Darryl's House (Light Blue properties)
Poor Richard's, Diwali Gymnasium (Brown properties)
Dunder Mifflin Delivery Truck, Lake Wallenpaupack Party Boat, Forklift, Korean Church Van (Railroads)
Serenity by Jan (Electric Co.)
Dunder Mifflin Infinity (Waterworks)
The six unique collectible tokens, which were chosen two months ago by fans in an online poll, are the Princess Unicorn, Dwight Bobblehead, World's Best Boss Mug, Bacon Grill, Beet, and Pam's Candy Dish, while the board center features the entire cast of "The Office."
MONOPOLY®: "The Office" Collector's Edition will be available this summer at specialty retailers nationwide, including Barnes & Noble and Borders. It will also be available online at http://www.nbcstore.com. This fan favorite is appropriate for ages 8 and older. Visit http://www.USAOpoly.com for all the game details.
About "The Office":
From Deedle-Dee Productions, Reveille and Universal Media Studios comes the hilarious documentary-style look into the humorous and sometimes poignant foolishness that plagues the world of 9-to-5 in the half-hour comedy "The Office," based on the award-winning BBC hit. Since its premiere on NBC in March 2005, "The Office" has established itself as a genuine hit, earning prestigious television honors such as the 2006 Emmy Award for Outstanding Comedy Series, 2006 Peabody Award, 2006 and 2008 AFI Honor, Producers Guild Award, Writers Guild Award, SAG Award for Outstanding Performance by an Ensemble in a Comedy, Ace Eddie Award for editing and a Television Critic's Association Award for Outstanding Achievement in Comedy.
A fly-on-the-wall "docu-reality" parody about modern American office life, "The Office" delves into the lives of the workers at Dunder Mifflin paper supply company in Scranton, Pennsylvania. Regional manager Michael Scott (Golden Globe winner and Emmy nominee Steve Carell, "Date Night," "Get Smart") is a single, middle-aged man who is the boastful tour guide for the documentary.
"The Office" is executive-produced by Ben Silverman, Greg Daniels, who developed the series for American audiences, Ricky Gervais, Stephen Merchant, Howard Klein and Paul Lieberstein.
About USAOPOLY:
USAOPOLY, Inc. (http://www.USAopoly.com) is a leading specialty market game developer offering the world's best known games (under license from the Entertainment & Licensing Division of Hasbro) with the hottest licenses. USAopoly™ brings to market this year themed MONOPOLY® including Rolling Stones, Nintendo®: The Office and Hello Kitty Collector's Editions; CRANIUM®: Disney Family Edition; OPERATION®: Family Guy™ Collector's Edition; TRIVIAL PURSUIT®: Rolling Stones and The Beatles Collector's Editions; CLUE®: The Office and Family Guy Collector's Editions; RISK®: Halo Wars™ Collector's Edition; YAHTZEE®: Elvis® 75th Anniversary and Super Mario Collector's Editions; and JENGA®: Tim Burton's The Nightmare Before Christmas and Donkey Kong™ Collector's Editions. For more fun and games check out http://www.USAopoly.com . USAOPOLY is a trademark of USAOPOLY, Inc.
About HASBRO:
Hasbro, Inc. (NYSE:HAS) is a worldwide leader in children's and family leisure time products and services with a rich portfolio of brands and entertainment properties that provides some of the highest quality and most recognizable play and recreational experiences in the world. As a brand-driven, consumer-focused global company, Hasbro brings to market a range of toys, games and licensed products, from traditional to high-tech and digital, under such powerful brand names as TRANSFORMERS, PLAYSKOOL, TONKA, MILTON BRADLEY, PARKER BROTHERS, TIGER, CRANIUM and WIZARDS OF THE COAST. Come see how we inspire play through our brands at http://www.hasbro.com. ©2010 Hasbro, Inc. All Rights Reserved.
About NBC Universal Television DVD, Music, and Consumer Products Group:
NBC Universal is a leader in providing entertainment programming to the domestic and international marketplaces. NBC Universal Television DVD, Music, and Consumer Products Group manages all global ancillary television business endeavors for the NBC Universal Television Group, including third-party home entertainment distribution, consumer products, musical soundtracks, special markets projects and the NBC Universal Online Store.
About Reveille:
Reveille is a leading independent studio focused on exploiting worldwide intellectual property rights in scripted and unscripted television and digital entertainment, and a world leader in creating integrated marketing opportunities for advertisers. Reveille is known for popular and award-winning hit series including THE BIGGEST LOSER, THE OFFICE, THE BURIED LIFE, UGLY BETTY, THE TUDORS, TABATHA'S SALON TAKEOVER, SHEAR GENIUS and PARENTAL CONTROL. Reveille has developed many original online series for brands including the series FIT TO BOOM for Subway and IT'S EVERYBODY'S BUSINESS WITH JACK AND SUZY WELCH for Microsoft. Upcoming television series include MASTERCHEF, GIGANTIC, LOSING IT WITH JILLIAN and BREAKTHROUGH WITH TONY ROBBINS. Through its distribution arm, Shine International, Reveille distributes its extensive library of programming to more than 150 countries. Reveille is part of the Shine Group, one of the world's foremost multinational entertainment and drama companies.
About Joy Tashjian Marketing Group, LLC:
Joy Tashjian Marketing Group, LLC (JTMG) was formed in 1998 and is headed by company president Joy Tashjian. Recently awarded for "Retail Promotion of the Year" for their work on "Deal or No Deal", JTMG specializes in the development, implementation and strategic retail development of entertainment trademarks for consumer products. JTMG represents many prestigious television properties and production studios: Agency of record for NBC Television, USA Network, LXTV and CNBC. Additionally, JTMG portfolio of television programs includes programs on NBC, Fox, Cartoon Network and Disney Channel. JTMG represents Endemol for "Fear Factor," "Deal or No Deal," "Big Brother," "1 vs. 100," Breakthrough Films and Television for "Captain Flamingo", "Miss BG", "Atomic Betty", Fresh TV for "Stoked", Magicbox, PPI for "Gogo's Crazybones" and Giochi Preziosi for "Gormiti".
Contacts:
NBC Universal Television Publicity
Leslie Schwartz
818.777.3233
USAopoly
Jeanette Best, Marketing Manager
760-602-7646
###