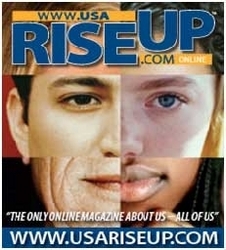 "A commitment to engage in an honest and ongoing conversation about race relations in America can only strenghthen us as a nation," says Janice Ellis, publisher and executive editor of USARiseUp.
(PRWEB) June 15, 2010
Despite the heated debates raging over immigration, America's multi-racial, multi-ethinic society is still the foundation of our strength. One online magazine and website, USARiseUp.Com, provides a place where one can engage in a honest conversation about race, culture and ethnicity. It moves the dialogue beyond diversity to inclusiveness.
With writers from across the nation and beyond, this online publication is committed to offering educational articles that address a myriad of subject areas.
Publisher and Executive Editor, Janice S. Ellis, says that by "tackling uncomfortable issues around race, culture and ethnicity, we can begin to understand our difference, celebrate our commonalities, and build a bridge that will help us come together and have productive discussions about those things that divide us.
There are many departments and a Blog Zone on the website. One department, "Sticky Wicket Questions" allows readers to address areas that they may be uncomfortable raising in other settings. "Our writers resond to these sensitive and tough questions--the ones that we normally do not talk about in polite conversation," says Ellis. "They go the extra mile by interviewing the experts and conducting necessary research to provide in-depth answers to the readers."
Ellis adds that while our society has become more multicultural, we still need to address the fact that simply seeing people of a different color, ethnic group, or religious affilation does not mean we have accepted them or changed our views of people who do not look like us, live like us or worship like us.
We cannot define our societal identity by allowing a dominant culutre to ignore or marginalize the presence and contributions of minority cultures. Rather, our society should be defined by how it permits and embraces unique identities that contribute to the rich tapestry of the societal unit. Through its articles, comments and responses, USARiseUp.com provides opportunities for a person or group's racial, ethnic and religious identity to shine as it increases knowledge to help us better understand our differences.
"It is too easy to stay in the comfort zone of our surroundings, letting our families, friends and colleagues believe that the world is made up of the familiar," say Ellis. "For any country to be a superpower or global leader, its own cultural identity should be a beautiful mosaic of the world itself. As a truly global community, we must each tile in this vast mosaic of racially and culturally diverse people."
USARiseUp.com is committed to continuing its message of open and ongoing communication to better educate ourselves about race, ethnicity and culture in a global society. Ellis points out that, "staying in the dark only hinders our progress as a people. It is through open dialogue that we can learn from each other how to live peacefuly and productively. Shelter from the unknown breeds and perpetuates ignorance."
For more information, please visit USARiseUp.com or call (816) 931-2200.
USARiseUp, Inc.
Kansas City, MO USARiseUp Video
About USARiseUp.com:
USARiseUp.com began as a weekly print publication in the summer of 2008. The company arrived on a crowded media stage, chock-a-block with dailies, weeklies, and magazines. Its focus was race—a "beat" often overlooked by the mainstream press—and it promised to offer a fresh take on the issues of race, ethnicity, religion and culture. It appeared as an insert in 12 papers, including: The New York Daily News, Chicago Tribune, Washington Post, Kansas City Star, and St. Louis Post-Dispatch, among others. Despite an overwhelming response, and a circulation of 4 million, a few issues later, a cash crunch forced it to disappear. A year (and many teardrops) later in March 2009, it reappeared—as USARiseUp.com. USARiseUp.com, the digital offspring of RiseUp, is an online magazine that celebrates people of different cultures and color. USARiseUp.com is physically located in America's heartland, Kansas City, Missouri.
# # #