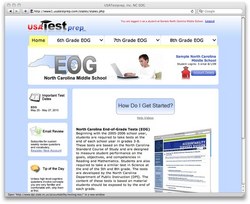 Our discussions with teachers across North Carolina and the success of our other products there led us to expand to the EOG review
Cartersville, GA (PRWEB) August 19, 2009
USATestprep, Inc. announced today that they have launched a new online review product specifically designed for the North Carolina middle school End-of-Grade Tests (EOG). Two years ago, USATestprep launched their review product for the North Carolina High School End-of-Course Tests. Building on the success of this product they custom-built new reviews for the 6th, 7th, and 8th Grade Mathematics and Reading Comprehension Tests as well as the 8th Grade Science Test. All content on these reviews was designed to match the Competency Goals and Objectives found in the Standard Courses of Study.
USATestprep, Inc. is recognized as a leader in online review for high school and middle school state-required tests. They have been helping students with high-stakes tests since 1998 and currently offer 23 custom review products across 16 different states. Company Co-Founder Jay Eckard, states, "The EOGs in North Carolina were challenging because they cover a wide range of material. I feel our authors were all up to the task, and we now have a terrific product to offer." Students can better prepare by using the site's tests, tutorials, games and other unique activities. Teachers can use the site to generate benchmark tests, track student progress and make printable activities.
With well over one million students currently using the service, including 20% of North Carolina high school students, USATestprep felt expansion into the middle school area was a positive move. "Our discussions with teachers across North Carolina and the success of our other products there led us to expand to the EOG review," stated Eckard. USATestprep's spring user survey showed that 99% of teachers who use the site felt it helped their students and would recommend it to others. "As former teachers, we are constantly striving to build something teachers will find user-friendly, beneficial, and affordable."
Interested schools and districts may learn more at USATestprep or call them toll free at 1-877-456-9302. Subscription services start at only $250 per school and volume district pricing is available.
###