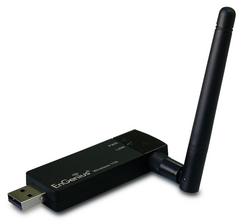 Our two newest USB wireless adapters are ideal for anyone from the business traveler to the tech-savvy home user; anyone who is looking for superior range and power to experience clear, uninterrupted wireless communication
Costa Mesa, CA (PRWEB) April 28, 2010
EnGenius Technologies, Inc continually leads the wireless networking industry with innovative new products that make wireless networking easier for the average user. Today they have announced the launch of two new business-class USB wireless adapters that bring the power of stationary wireless communication to the laptop user - the EUB9603EXT and EUB9603H.
Both the EUB9603EXT and EUB9603H were engineered using the 802.11 wireless N standard which increases the adapters ability to handle high payloads of data at 150Mbps. For the end user, this translates into fewer interruptions or slowdown in communication making both devices capable of handling such processes as VoIP, online gaming or video conferencing. And, with backward compatibility, the EUB9603EXT and EUB9603H can flawlessly communicate within any 802.11b/g wifi hotspot location across the globe.
With the EUB9603H, EnGenius' engineers added a few extra features to boost its range ability and wireless network power. The EUB9603H includes a high-gain, 5dBi long range wifi antenna to allow for greater signal clarity and strength. In addition, the EUB9603H operates at 600mW of wireless power boosting its wifi signal over significantly further distances than other wireless network adapters on the market.
"Our two newest USB wireless adapters are ideal for anyone from the business traveler to the tech-savvy home user; anyone who is looking for superior range and power to experience clear, uninterrupted wireless communication," notes Roger Chien, product manager.
Other features of both the EUB9603EXT and EUB9603H are:

Quality-of-Service (QoS) Technology - mediates bandwidth throughput for smooth transmission of VoIP (Voice-over IP), video-conferencing, online gaming and other wireless streaming media
Detachable long range wifi antenna design - offering significantly greater power and range than the typical USB stick antenna design
Wireless N standard - capable of operating at 150Mbps
High Power 600mW (9603H only) - superior wireless power for extreme long distances
Both the EUB9603EXT and EUB9603H were designed with detachable wifi antennas rather than the traditional stick adapter design. This was done to achieve greater performance and better coverage range. Even the EUB9603EXT, with its standard 2dBi antenna, performs better with this detachable design because it allows for versatile antenna positioning to pick up wifi signals coming in from any direction.
This unique wifi antenna design is especially useful in boosting the wireless networking performance for laptop users. Today, the average laptop comes equipped with a factory-installed wireless card. The internal antenna is ill-suited to picking up the wide range of wireless networking traffic. Moreover, it lacks the power to sustain a clear communications signal. EnGenius' unique antenna design offers the laptop user a chance to experience state-of-the art wifi communications anywhere, from any laptop.
"Although the EUB9603EXT and EUB9603H were designed for the business traveler or the technologically savvy end-user, both USB wireless adapters would greatly enhance the wireless experience for any end-user," adds Chien.
The EnGenius' EUB9603EXT and EUB9603H are both top-performing 150Mbps long range USB wireless adapters that are ideal for the busy business traveler or anyone needing consistent, reliable high-end performance from their wireless network adapter. Backed by EnGenius' one-year manufacturer's warranty, the EUB9603EXT and EUB9603 offer peace-of-mind to the end user both at home and on the road.
The EUB9603EXT and EUB9603H long range USB wireless adapters are available at select value added distributors, direct marketers, e-commerce sites and value-added resellers at a retail price of $29.99 and $39.99 respectively.
For addition information about the EnGenius' EUB9603EXT and EUB9603H or other Long-Range "Wireless Business Class" data devices or for resale information, please visit http://www.engeniustech.com.
About EnGenius Technologies
EnGenius Technologies is a global technology innovator specializing in long-range telephone and data communications. The company pioneered the "Affordable Long-Range Wireless" product category. Its award winning, long-range devices consistently outperform competitors' deployment coverage. Established in 1999, EnGenius Technologies, Inc. is a wholly-owned subsidiary of Senao Networks, a Taiwan RF communications manufacturing company.
###