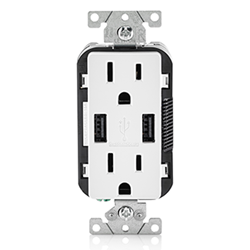 Two high-powered USB Ports with 3.6A of charging power and two 15A or 20A/125V Tamper-Resistant Receptacles
Dallas, TX (PRWEB) April 20, 2015
TheHardwareCity.com, a renowned online store dealing in different products announced 62 percent discount on Resistant Duplex Receptacle in a small press meet here today. The product has four ports in total, two for inserting USB and other for plugs. It can be fixed anywhere in the house or office. With discount customer can get the product for $20.05 against the list price of $32.45. Discount offer is for limited period.
Speaking to the media, a representative of the company said, "We are delighted to announce that we are providing flat 62 percent off on our product 'Leviton USB Charger/ Tamper Resistant Duplex Receptacle.' Now you can purchase this product at really affordable price. It is already a big hit and has been purchased by number of people. Here is a chance for you to buy USB Charger Duplex Receptacle at a cheaper price." He further added, "Our goal is to provide quality products to the customer at affordable price."
Resistant Duplex Receptacle is designed in such a way that any device including smartphones, laptops, video games, digital cameras and others can be inserted. Ports for USB are placed vertically so that there is proper management of plugs and USB cables. The stress on USB cables is reduced because of vertical positioning of USB ports.
The product can be fixed anywhere easily. It is compatible with standard wall plates and can be multi-ganged with other devices. The ports are high powered with 3.6 Amp of charging power. Electronic device with high voltage can be used as there receptacles comes with the power to tolerate 15 Amp. Smart chip recognizes and optimizes the charging requirements of individual devices. The product is available in white color and has got stylish looks, which is suitable to any type of house or office.
Free shipping offer is available on the product. Client can purchase it using their credit or debit card via secured payment gateway.
About TheHardwareCity.com, TheHardwareCity.com was founded in the year 2007. It is an online retail and wholesale store specializing in hardware, general merchandise and household goods. The website aims at providing quality service and product to the customers.