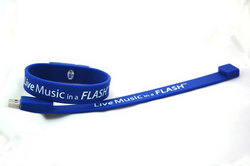 Live Events in a Flash
Cannes, France (PRWEB) September 23, 2008
One of the music industry's most respected world music conferences, Midem 2009, has announced that it will be replacing CD distribution of British content with Midem branded USB Flash drive wristband created by Aderra Inc.
Midem, the annual world-renowned conference, gathers leading music executives, talent and technological advancements together to network and share the latest the global music industry has to offer. Midem's decision to compile up to 40 musical tracks in MP3 format, links to British delegates and partner websites, and video for British content simply confirms that the world music industry is prepared to move further away from traditional CD distribution. Several British music governing bodies will be using Aderra's USB wristbands at next years Midem conference including the Association of Independent Music (AIM), BPI The British Record Music Industry and BMR British Music Rights. http://www.aderra.co.uk
Using Aderra Inc.'s USB flash drive wristband will give Midem attendees the flexibility of a dynamic branded interface with live links and a variety of content. It also gives the brands presented on each drive the opportunity to consolidate their most important initiatives onto an easy to navigate User Interface. In addition, each Aderra USB Flash wristband additionally serves as a reusable storage device.
"The digital realm is here to stay, and Aderra is capitalizing on that right now with its patented- Live in a Flash™ USB flash drive system which is quickly becoming a key component in the multiplatform revenue streams currently available to artists, labels event organisers and promoters right across Europe. What Aderra does is create something that is personal to the fan either as a memory of a fantastic night via the live recording and or by bringing together the music and merchandise all into one unique product, " said Ashley Peniston-Bird, Managing Director of Aderra UK Ltd. http://www.aderra.co.uk
Technology newcomer Aderra Inc has not only positioned itself as an authority on pre-loaded flash drive content delivery but has impressed many in the industry with its patented "Live Events in a Flash" ™ technology platform. This patent pending technology allows them to record live events directly to USB flash drives that can be immediately distributed to attendees. With both live events and pre-loaded content being easily transported to a user's home computer through USB flash drives, Aderra has not only captured the attention of Midem and their British delegation, but live musical acts from Wille Nelson to UB40 are following suite and delivering content to fans on flash drives as well.
"Only a year ago it was hard to imagine that we would see an organization such as the Midem move away from traditional modes of content delivery and take forward thinking action to switch to our USB wristband. Aderra is glad to see such a whole hearted embrace of our technology from one of the most reputable groups in the music industry." - Ed Donnelly Founder and President Aderra Inc. http://www.aderra.net
MIDEM
Paris HQ
11 rue du Colonel Pierre Avia - BP 572, 75726 Paris Cedex 15 - FRANCE
Hotline: +33 (0)1 41 90 44 60 / Fax: +33 (0)1 41 90 44 50
http://www.midem.com
About Aderra
Aderra Inc. provides an innovative way to capture the "once in a lifetime" experience of live shows, sporting events, conferences, government and public assemblies and immediately deliver it to fans or attendees after the event. Aderra is on the cutting edge of content delivery with the use of their "Live in a Flash"™ USB technology. For more information, visit http://www.aderra.net.
Trademark ownership is indicated by the symbol ®, however, for the sake of brevity it is omitted during the story.
For an interview with Ed Donnelly,
the creator of Aderra Inc technology,
Please contact Eric Larsen,
Aderra Inc. VP of Marketing,
At (310) 922-0014
or eric_larsen@aderra.net
###