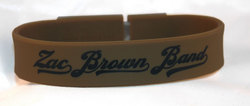 Zac has brought together an amazing group of musicians. We are excited to work with the Zac Brown Band and Atlantic Records to use our Live in a Flash! technology to help them connect with fans who have just witnessed one of the best live bands on the road right now
Atlanta, GA (PRWEB) January 13, 2009
On the heels of a banner month in which their debut Atlantic Records single "Chicken Fried" reached #1 on Billboard's Hot Country and top 20 on Billboard's Hot 100, Zac Brown Band made their live shows available to fans on USB wristbands. In partnering with Aderra, Inc., the creator of "Live in a Flash" Technology, fans had the unique opportunity to take one of the band's thrilling live performances home with them.
Zac Brown Band utilized the Aderra USB wristband recording service for select live shows on the current tour. At the end of each show, fans were able to purchase USB wristbands with that night's live show, the full Atlantic Records studio album "The Foundation", photos and Web links to the band's site. This unique user dashboard was developed by Aderra, Inc. to give the Zac brown Band's fans an immersive experience. Music USB Wristbands.
The band's growing popularity can be attributed to their very eclectic sound spanning genres such as country, bluegrass, Southern rock, pop and reggae. On tour to promote their latest album, "The Foundation", Zac Brown Band will be touring various dates this winter around the country.
"Zac has brought together an amazing group of musicians. We are excited to work with the Zac Brown Band and Atlantic Records to use our Live in a Flash! technology to help them connect with fans who have just witnessed one of the best live bands on the road right now," said Ed Donnelly, President Aderra, Inc. Concert on USB.
In addition to concert performances, Aderra Inc. has been using their Live in a Flash! Technology to instantly deliver multimedia content for Film Studios, Conferences, Sporting Events and Charities such as Rachel's Callenge. Aderra's expertise in the field of content delivery is gaining a foothold in countless markets driving users to targeted information and online destinations to expand their horizons.
###