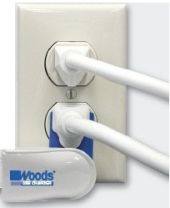 Ultra-compact in size, this charger is small enough to fit in your pocket or in the palm of your hand to take with you
wherever you go!
Issaquah, WA (PRWEB) January 22, 2013
Online retailer TheHardwareCity.com is now offering customers Coleman Cable Inc.'s latest innovation—the Woods USB Charger. The charger features a plugless design, meaning it will not needlessly take up an outlet that could be used for another electronic device or appliance.
According to Asha Rani, the Woods Plugless USB Charger works with electronics that need to be plugged in as a sort of bridge.
"This charger is a very clever item," Rani said. "All you need to do is take it and insert either a two- or three-prong plug though it and then plug your device in. Once you plug your device into the outlet, the Woods device instantly becomes a USB charger station. Best of all, it is pocket size and can be taken and used anywhere you go."
Rotatable up to 270 degrees, the Woods USB Charger offers overload protection and recharges the following devices via a USB cable:

Cell phones (including smart phones and Android)
MP3 players
Digital cameras
e-Readers
PDAs
Hands-free devices
The Woods USB Charger can be used with a regular wall receptacle, power strips or surge protectors. It has a power output of 5V DC, 1A and an input of 100-120 VAC, 60 Hz and 0.18A Max.
"Considering how driven our lives are by technology and electricity, this is an opportunity for people to have more access to more power," Rani said. "So many people are going to find this helpful at home or in their office."
For more information about this or any of TheHardwareCity.com's products, visit http://www.TheHardwareCity.com.
TheHardwareCity.com, one of the largest sellers of home hardware products online, has combined the old school philosophy of cutting cost with the latest in technology whenever possible since 2007. As an online-based retailer, TheHardwareCity.com offers products available to customers that other larger and smaller brick-and-mortar stores don't often carry. Additionally, TheHardwareCity.com offers live assistance online, Monday through Saturday, to ensure its customers get exactly what they need.
Coleman Cable, Inc. acquired Woods Industries in 2007. For more than 75 years, Woods has been a leading developer of electrical products for consumers and professional contractors. Woods has an extensive record as an innovator in product development, packaging and retail displays, collaborating with its customers to deliver quality products to retail.