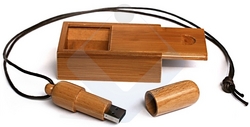 Hong Kong (PRWEB) August 19, 2008
MemoTrek Technologies Ltd., the leading supplier of customized USB flash drives to corporate customers worldwide, has recently launched a new and eco-friendly USB flash drive that is made of environmentally friendly bamboo.
This new product, named "Woody Bamboo", has just recently been launched, and with its eco-friendliness and exquisite minimalist design it's about to become one of the flagship products of the company, and stands out among their exclusively designed Customized USB Flash Drives.
Exclusively made out of hardened and extremely durable bamboo, this wooden USB flash drive blends traditional Eastern influences with modern technology: encapsulated in a solid and beautifully carved wooden bamboo casing, a high-speed NAND flash memory from Hynix is ready to conceive important corporate data, such as company presentations or sales movies, and securely store this data for many years. Because of the long life-span of bamboo, the plant was treated as a symbol for longevity in ancient China.
Also today bamboo is still seen as symbol for good luck and a long life throughout Asia. Together with its usefulness and durable resistance, these attributes make the "Woody Bamboo" stand out as a suitable promotional gift also for corporate business partners and clients from not only from the Far East, but also to customers in Europe or the USA.
Fitting to this philosophy of giving a lasting and attractive gift that reflects true and sustainable values, the "Woody Bamboo" can be packed inside a exclusively designed gift-box made of hardened bamboo material that slides open to reveal to the receiver the USB flash drive inside. For the more environmentally consciousness MemoTrek even provides a green packaging alternative that also fits well with this bamboo USB flash drive: a simple but sleek paper giftbox made of recycled cartoon paper.
Shipped with a free hemp-like band that fits well to the overall eco-friendly and minimalist image projected by this promotional USB flash drive, this innovative promotional gift can also be furbished with an optional leather cord on request.
The "Woody Bamboo" is available in 1GB, 2GB and 4GB versions and is sold at minimum quantities of 100 units. For more information on availability and customizations of this unique and eco-friendly promotional USB flash drive visit the MemoTrek corporate website and see the full specifications of the the at Eco-friendly USB Flash Drive Woody Bamboo.
About MemoTrek Technologies Ltd:
Leading supplier of customized USB flash drives to corporate customers worldwide, this Hong Kong based company has customers in more than 20 countries and counts several Fortune 500 Enterprises to their trusted customers. With its international management team, MemoTrek is focusing exclusively on high-volume orders of promotional USB flash drives to renown clients worldwide. MemoTrek also operates a Regional Sales Office in Germany to better serve the European market.
Contact:
Sales Department
Hotline: +852 3678 6733
Email: sales|at|memotrek.com
MemoTrek Technologies Ltd.
###