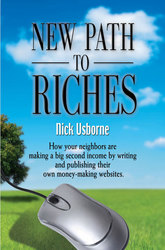 The timing is perfect for people right now
Montreal, Quebec (PRWEB) October 15, 2009
Big media publications and broadcasters are struggling. Their advertisers are taking their marketing budgets online. Why? Because the public's attention is moving online. Advertisers go where the readers are.
This shift in public attention to online media is just one of the changes Nick Usborne describes in his new book, New Path to Riches.
He also describes how people are spending less time on big company sites, and more time learning and interacting with each other via niche websites, blogs, Facebook, Twitter and so on.
This fragmentation of attention, globally, provides a gap for individuals to write their own web sites on topics that interest them, and then attract a devoted following of visitors. With plenty of visitors coming to their websites, they can start making some money.
While Nick has over a decade of experience as a leading online writer and copywriter for some of the world's largest companies, much of what he teaches in New Path to Riches is drawn from his own experience writing a website as a simple "expert next door".
"In my spare time I write a website called CoffeeDetective.com. I have no professional background in the coffee business, but it's a topic that interests me. My site now attracts over a hundred thousand readers each month, and makes enough money to pay my mortgage, car payments, utilities and more."
His book is aimed at helping anyone who enjoys writing to follow the same path.
"The timing is perfect for people right now," he says. "Changes in both the publishing industry and the way we use the Web are opening the door for regular people to write profitable websites of their own. And with the economy the way it is, the idea of a dependable second income is very, very attractive. But be prepared. This isn't a "get-rich-quick" scheme. This approach takes time, and plenty of hard work."
Chapter One of New Path to Riches is freely available online.
Nick Usborne is a leading expert on writing for the web. For the last ten years he has been advising some of the world's largest companies on how to write their websites. More recently, he has been using that same expertise to help individuals make money by writing websites of their own.
###