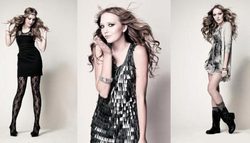 AngelEye believes in self-expression through style, creating designs that give the wearer a sense of glamour
(PRWEB) November 3, 2010
This October sees the online launch of Angeleye at USC.
As modeled by Sam Marchant. Hardly recognisable from her Big Brother days, Samantha Marchant has branched out on her own and as well as being the face of Angeleye she has also taken on the marketing role at exciting new brand Angeleye. One half of Big Brother's illusive twins 'Samanda', Samantha Marchant models the exciting new range Angeleye at USC.
Launching at USC, the collection takes inspiration from young London street trends of combining vintage and the high-street to create individual, funky styles. Fresh florals and glamorous and grungey prints are set off by fun, quirky cuts with a unique twist to each garment. The option to mix and match and wear in your own way makes Angeleye accessible to anyone, of any age. Visit your local USC store or log onto to http://www.usc.co.uk to see the fantastic new collection from Angeleye.
Angeleye
AngelEye is a London-based international fashion group and one of the country's most successful and fastest growing companies. With a dedicated in house staff and global wide spread designer in more than 20 countries, they pride themselves in providing a unique brand clothing most appealing to fashion – conscious movers and grievers of the 20th century. AngelEye believes in self-expression through style, creating designs that give the wearer a sense of glamour, confidence and adds an instant spring to their step. Angeleyes range includes jumpsuits, knitwear, trousers and all manner of dresses, including daytime, maxi and evening dresses, creating the right blend of fashion for the modern lady's lifestyle.
USC
With an 18 year history in retail, USC is a premier destination for branded clothing, footwear and accessories. USC is a one stop shop for premium street wear, footwear and denim brands, priding itself on offering one of the largest collections of jeans in the UK. USC works with leading brand partners to produce exclusive brand collections for each season. There are 35 USC stores nationwide with six flagship stores in Manchester, Glasgow, Edinburgh, Newcastle, Cardiff and the most recent addition Liverpool.
# # #