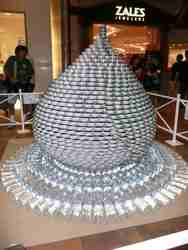 With its goal of ending hunger 'one can at a time,' Canstruction is a terrific way for U.S. CAD, along with other area design and construction organizations, to help raise public awareness for Hawaii's hungry and generate a significant amount of canned food donations - all while doing what we do best: designing and building
Honolulu, HI (PRWEB) August 26, 2008
U.S. CAD, Hawaii and the Western U.S.'s largest provider of computer-aided design (CAD) services and products, participated in the Third Annual Honolulu Canstruction® Design/Build Competition to raise canned goods for the Hawaii Food Bank on Saturday, Aug. 23, at the Pearlridge Center, Uptown. A national community service program created by the Society for Design Administration on behalf of the design and construction industry, Canstruction is presented in Hawaii by the American Institute of Architects (AIA), Honolulu Chapter with additional local sponsorship. Each year, the event raises some 40,000 pounds of canned goods for Hawaii's hungry.
"With its goal of ending hunger 'one can at a time,' Canstruction is a terrific way for U.S. CAD, along with other area design and construction organizations, to help raise public awareness for Hawaii's hungry and generate a significant amount of canned food donations - all while doing what we do best: designing and building," said Yoshi Honda, U.S. CAD Director of Operations for Hawaii. "Saturday's 'competition' was a lot of fun, and our choice to build the U.S. CAD 'Sustainable by Design' logo using cans of tuna had special significance, since sustainable or 'green' design and tuna fish are both vital to the Aloha state."
Competing in shifts, the team from U.S. CAD's Aiea office created a six-foot-high, seven-foot-wide structure of the company's "Sustainable by Design" logo using some 4,000 cans of tuna (four different types) and 600 bottles of water. Earlier this week, several of the U.S. CAD team members joined colleagues from another company, Next Design, for a live, pre-Canstruction demonstration on the KGMB Morning Show.
The software used to create the prototype and detail drawings for U.S. CAD's structure included Autodesk Inventor 2009, AutoCAD® 2009 and Autodesk 3ds MAX Design 2009 - all of which are used in the building design industry, and all of which U.S. CAD provides to its customers.
As Hawaii's only authorized Autodesk® solutions reseller, U.S. CAD knows a thing or two about sustainable design and building. Formerly Pacific CADD Services in Hawaii, U.S. CAD provides computer-aided design services, training and products, including the latest Autodesk technologies, to Hawaii's growing civil, mechanical and architectural design, building-engineering and geospatial industries, as well as government agencies.
About Canstruction:
According to the AIA Honolulu Chapter website, "Canstruction combines the competitive spirit of a design/build competition with a unique way to help feed hungry people. Competing teams, led by architects and engineers, showcase their talents by designing giant sculptures made entirely out of canned foods."
The canned-food structures are limited to a footprint of eight feet by eight feet, as well as a height of eight feet. Structurally self-supporting, the only materials allowed 1/4-inch leveling, cardboard, tape, rubber bands, wire and the donated food itself.
Awards determined by a jury of prominent island architects, public servants and other community members are presented in categories including Jurors' Favorite, Structural Ingenuity, Best Use of Labels and Best Meal. The public also can vote, with one donated can of food equaling one vote. The structure that receives the most public votes during the two-week exhibition of the structures (which runs through Sept. 7) will receive the People's Choice Award. At the end of the exhibition, all of the food used in the structures, as well as the public's canned food "votes," will be donated to the Hawaii Foodbank. Members of the public are encouraged to visit the exhibition at the Pearlridge Center, Uptown and vote their conscience.
About U.S. CAD:
Based in Costa Mesa, Calif., with offices in Aiea, Hawaii, U.S. CAD, Inc. (formerly Pacific CADD Services in Hawaii) has grown to be the largest Autodesk reseller in Hawaii and the Western U.S., with more than 65 employees supporting customers in the full spectrum of Autodesk technologies. U.S. CAD employs nearly 30 Technical Specialists and adds an additional 25 Autodesk Consultants through its strategic partner K-TEK Solutions, based in Northern California. With this technical bench strength of over 50 individuals, U.S. CAD's expertise is sought after by an impressive array of companies who value U.S. CAD's unique mix of technology implementation, project assessment, process consulting, knowledge assessment, project mentoring, flexible training options, and technical support services. U.S. CAD has grown rapidly due, in part, to its commitment to respecting the needs of its business partners and honestly communicating how complex technologies are successfully implemented, and to delivering solutions with the highest level of integrity.
To find out what makes U.S. CAD unique and all the ways it helps its customers "Achieve More!" go to http://www.uscad.com.
U.S. CAD is a trademark of U.S. CAD, Inc. Autodesk and the Autodesk logo are registered trademarks of Autodesk, Inc., in the USA and/or other countries. All other brand names, product names, or trademarks belong to their respective holders.
###