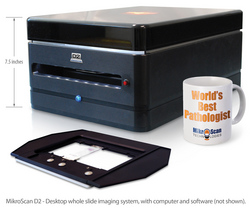 Our solution fills in the 'gaps of convenience' through eliminating consult travel time, lab wait time, and slide shipping time. The small footprint allows easy operation from anyplace including your desk, lab, frozen section room, or office.
Vista, CA (PRWEB) February 25, 2011
Whole slide imaging (WSI) manufacturer, MikroScan Technologies, continues to gain momentum in the digital pathology marketplace with its ultra-small footprint, whole slide imaging scanner for secondary diagnostic analysis and collaboration for clinical, research, and education applications.
MikroScan will be demonstrating its digital pathology systems at the United States and Canadian Academy of Pathology (USCAP) in booth #279. The 100th annual USCAP meeting will be held at the Henry B. Gonzalez Convention Center in San Antonio, Texas. The Exhibition dates are February 28 through March 2, 2011 while the conference runs longer, from February 26 through March 4, 2011.
"We are excited about all the interest we're receiving, it's very satisfying to know we have produced a product that this industry has been looking for," said Bob Goerlitz, president of MikroScan Technologies. "We have many adopters including several U.S. regional hospitals, from the University of Southern California Department of Pathology, to Mohs surgery facilities, and Urban medical centers. Dozens of others are in line for early adoption, as far reaching as an Amazon village that needs to link with medical experts in the U.S. MikroScan is really pathology without borders."
Designed to fit a growing niche in the market, the company's flagship product, the MikroScan D2, features a very small footprint, excellent diagnostic image quality and collaborative communications.
Mr. Goerlitz continued, "In large facilities, our solution complements the high-throughput products on the market by filling in the 'gaps of convenience' through eliminating issues like consult travel time, lab wait time, slide shipping time, and of course MikroScan's small footprint allows easy operation from anyplace with Internet access including your desk, lab, frozen section room, or office."
Applications
MikroScan's cutting edge diagnostic communications features are especially well positioned to advance the field of digital pathology for collaborative and remote applications such as frozen section rooms, remote, consults, tumor boards, education, and remote/rural medical facilities. Future MikroScan models will have compelling differentiating features and options including Web-based viewing and remote control for fast remote consults, and a specially designed ergonomic touch-screen controller.
Victor Casas, chief technology officer and applications specialist at MikroScan Technologies, said, "Image quality is central to quality medicine. Pathologists need diagnostic accuracy for the sake of quality patient care, for their own professional reputation, and for a competitive edge. The doctors who have seen MikroScan's images have all been impressed with the diagnostic qualities, which rivals that of systems that are 3 to 5 times the price. As a QA tool, the MikroScan is an unrivaled value."
Mr. Casas continued, "We believe the MikroScan will have a huge impact on improving patient care and early detection for any application, especially in rural, remote, or impoverished areas of the world where because of distance, travel, and cost barriers, medical facilities have a dire need for high-quality imaging and rapid collaboration with remote experts."
MikroScan Product Line
MikroScan's new secondary diagnostic communication tools allow individual pathologists, path groups, and medical centers to keep pace with the rapidly evolving landscape of digital pathology. The high-speed scanners deliver typical scan times of less than 2 minutes for 15x15 mm sample at 20x magnification. Acquired slide images are compatible with leading third party image analysis and companion diagnostic algorithms, and laboratory information systems.
The MikroScan D2 desktop whole slide scanner is a complete turnkey solution with a small footprint, low profile, and compact design. MikroScan also offers dual-purpose integrated microscope scanning systems that can operate as both a whole-slide scanner as well as high-end routine brightfield microscope for exceptional workflow flexibility. All MikroScan systems come equipped with a powerful computer and user-friendly Q-Skan slide scanning software pre-installed and configured.
About MikroScan Technologies, Inc.
MikroScan Technologies, Inc. founders have been engaged in the design, sales, and marketing of high quality laboratory instruments for more than 26 years. The company specializes in the development of cutting edge whole-slide imaging (WSI) systems and diagnostic communication tools designed for pathology, biology and research applications. With game changing technology and pricing, MikroScan products represent a leap in advancement and convenience in the evolution of WSI and digital pathology. MikroScan centers its product development on three primary criteria: 1) Speed of slide image acquisition: necessary to make scanning technology practical in scientific investigation and clinical applications. 2) High quality slide images: necessary for accurate visual or digital diagnostics and or collaboration. 3) Affordability: unprecedented economics that allows scanners on anyone's desktop or lab workstation. For further information visit: http://www.MikroScan.com or follow us on Twitter: http://twitter.com/MikroScan
# # #