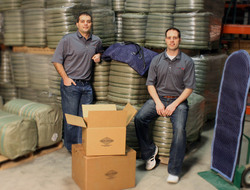 US Cargo Control category expert Scott Brunson teaches customers how to choose the right recovery strap for the job.
Urbana, IA (PRWEB) May 13, 2010
The launch of the new US Cargo Control Web site marks a turning point for Clickstop, a small Internet retailer with a portfolio of brands in specialty categories. The trending uptick in eCommerce sales coupled with increased consumer comfort in online buying prompted Clickstop owners to take the US Cargo Control brand to the next level.
Among a portfolio of 8 brands, US Cargo Control represents a significant portion of Clickstop's total revenue. From an internet marketing perspective, changes to the flagship brand's site were carefully considered and very deliberate. Marketing goals, including improved usability and streamlined navigation, were approached in ways to best protect valuable search rankings commonly referred to as "Google juice." No Google juice, no sales.
Members of the Clickstop marketing team painstakingly planned, tested, and implemented a new aesthetic design, product configuration functionality and checkout process, and they're now breathing sighs of relief. Coding, migrating content, and building out new pages has kept them busy for months, and it looks as though Google is on board with the improvements to the site. Early comments from customers suggest that they're appreciating the overhaul, too.
Looking back, no one could have predicted the enormity of this migration task, nor of its potential impact on Clickstop's business, which began with feet-on-the-street sales calls.
Five years ago, Tim Guenther did a radical thing. He bet that the Internet was going to help him reach more potential customers faster than he could rack up frequent flyer miles.
As an independent sales representative in the building materials industry, Guenther spent a lot of time on the road. The work was long and hard, and it kept him away from his young family too often. He wanted a way to turn traditional sales calls and visits into something more productive and lucrative, and he wanted to be his own boss. In 2005, Guenther teamed up with friend Shaun Linderbaum to launch a Web site that did more than tell visitors about his products. Together, they launched an eCommerce site for the trucking and hauling industry, aptly named US Cargo Control. They haven't looked back since.
Earning their chops in organic SEO and pay-per-click advertising, the pair has elevated the US Cargo Control site to several coveted search engine ranking positions for relevant keywords. Site rankings have risen steadily and so have sales.
"US Cargo Control is our flagship brand, launched in 2005. The market for the products we sell – tie downs, moving supplies, lifting slings and rigging supplies – is competitive. We've grown along with it," comments Guenther. "Our purchasing department routinely evaluates suppliers to identify new products that fit our customer profile. Our sales and service team works closely with customers to ensure they get the right product for their particular job. All orders received by 3:30pm CST are shipped the same day. Fast turn-around is important to many of our customers."
Customers are often surprised by how quickly they receive their orders. "Our central location really helps trim down delivery time overall compared to our competitors. As a high volume shipper, we enjoy some special programs with our carriers. It's a winning situation for customers." reports Linderbaum.
In a time where customer expectations are high, US Cargo Control continues to impress customers. Scott Brunson, a category expert for the brand, can attest to customer sentiment. "Each week we receive emails from customers remarking on our speed, and thanking us for helping solve their rigging problems. They have special needs, and we help them make the right choices. We take a lot of pride in servicing each customer, not simply selling them." Brunson has worked for the company 4 years, accumulating a wealth of experience he applies daily to ensure the safety and satisfaction of US Cargo Control customers.
The new US Cargo Control Web site launched May 11 on the NetSuite eCommerce/CRM solution, a robust platform which provides deeper reporting for analyzing customer lifetime value and integrates call center activity. The USCC site is the 4th Clickstop brand to migrate to NetSuite in 2010, with two more brand migrations planned for later this year.
About Clickstop, Inc.
Clickstop is a multi-brand, multi-channel merchant operating in several specialty categories including load handling and cargo securement. US Cargo Control is a Clickstop brand offering quality, affordable products including ratchet straps, moving blankets, lifting slings, and rigging equipment.
We strive to consistently deliver superior customer experience through service, product quality, selection, and value. Our business model allows us to reach thousands of customers every day through our Web site properties and customer service center.
Find us on Facebook or follow @clickstop on Twitter where we are building a community of members interested in SEO, PPC, conversion, and E-commerce topics.
Also look for US Cargo Control (@uscargocontrol) on Twitter and on Facebook for more information about tie downs, moving supplies, lifting slings and rigging supplies. The Web site is http://www.uscargocontrol.com .
# # #