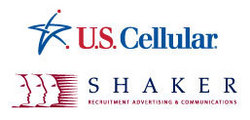 "U.S. Cellular is a perfect example of a forward-thinking company that knows what today's candidates want in a job fair – the convenience, immediacy and vast information that only a virtual event can provide."
Oak Park, IL (PRWEB) April 16, 2010
Recruiters and job seekers will be closer than ever in this easily navigable, realistic 3-D virtual environment. Booths will be staffed with U.S. Cellular recruiters who will chat live with job seekers publicly or privately about career opportunities available with the sixth-largest wireless carrier in retail sales, customer care and professional and technical areas, as well as about various bi-lingual positions. They will also have a chance to visit booths specified by areas of expertise and geographic location, and view videos and information about the company's unique culture. They can check out job profiles, submit resumes and attend presentations in the auditorium. A virtual networking lounge will allow participants to connect with other job seekers and recruiters. Even more attractive, it's free to register and attend.
In June 2008, Shaker began providing companies with a complete virtual career fair package— from training, support and guidance to pre- and post-event marketing for audience generation— to attract talent by hosting their own virtual career fairs. "Virtual career fairs are not the wave of the future … they are 'it' right now," says Joe Shaker, Jr., a Vice President at Shaker. "U.S. Cellular is a perfect example of a forward-thinking company that knows what today's candidates want in a job fair – the convenience, immediacy and vast information that only a virtual event can provide."
"We are always looking for ways to connect with dynamic candidates who will thrive at a customer-focused company that is committed to growing great leaders," says Russ Nykaza, Sr. Director of Talent Acquisition for U.S. Cellular. "We thought having a virtual career fair would be a great resource to interact with talented job seekers in a convenient space. Candidates can gain a deeper understanding of what it's like to work within our dynamic organization from the comfort of their own homes, and we can deliver the message about our unique company culture."
To register for the fairs, visit uscellularcareerfair.com Anyone interested in finding out more about careers at U.S. Cellular can visit uscellular.jobs. For more information on virtual career fairs, please contact Mike Vogel at 708-358-0361.
About U.S. Cellular
The 9,000 associates of U.S. Cellular believe a wireless phone enhances people's lives and a wireless company should be in the business of bringing people together. U.S. Cellular has a wide range of monthly plans, including those with unlimited nationwide calling, unlimited free incoming calls and options to prepay. The company has a growing catalog of phones like the BlackBerry® Tour and the touch-screen LG Tritan and HTC Touch Pro 2, which offer e-mail and Web access. Those features are delivered 10 times faster over U.S. Cellular's 3G Mobile Broadband network. U.S. Cellular believes in the power of the community and has made a commitment to invest more than $4.5 million in teachers and schools during 2009 and 2010. Based in Chicago, the company is the nation's sixth-largest wireless carrier, serving 6.2 million customers across the country. To learn more about the company, visit one of its retail stores or uscellular.com. You can also check out U.S. Cellular on Facebook.
About Shaker
Shaker Recruitment Advertising & Communications helps organizations realize their business objectives by connecting them with top talent through employer branding, employee and candidate communications, interactive media, campaign development, collateral and metrics. Shaker strategizes and manages recruitment and retention communications—from research and planning, to design and development, through placement and measurement—to foster employee engagement. Shaker is headquartered outside of Chicago. Visit shaker.com to learn more.
###