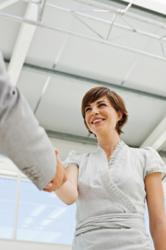 St. Petersburg, FL (PRWEB) April 21, 2011
In February 2011, the SBA's final ruling on Woman Owned Small Businesses went into effect, opening up new contracting opportunities to small businesses meeting the new set-aside criteria. In this program 83 NAICS codes, or North American Industry Classification codes, have been designated as being either underrepresented or substantially underrepresented by woman owned small businesses and contracts for these NAICS codes are now able to be set aside for eligible WOSB's.
Unlike the previous Woman Owned Business set-aside designation, Woman Owned Small Businesses are now required to go through a certification process and provide documentation to corroborate their status. In order to take part in the 8(m) WOSB Program, the business must meet certain eligibility requirements which include: at least 51% unconditional ownership and control of the business by one or more women, must meet SBA's size requirements to be considered small in primary NAICS code, highest officer position must be held by female owner who manages business on full time basis during its normal business hours and completion of registration required to work government contracts, such as CCR registration and ORCA filing.
While the SBA has indicated that eligible businesses may complete the certification process through an SBA-approved third party certifier, as of this publication no third party certifiers have been approved. Therefore, interested parties must self-certify by uploading the appropriate application and documentation to the SBA's Women-Owned Small Business Program Repository.
As a part of their targeted government marketing program, US Federal Contractor Registration is now helping their clients determine their eligibility for and complete self-certification for the 8(m) Woman Owned Small Business Program. Customers are able to consult with a member of the marketing team to determine if they meet the eligibility requirements, what documentation must be presented and receive help in using the WOSB Repository in the SBA's General Login System.
US Federal Contractor Registration's targeted government marketing program also includes development of a customized capabilities statement, a 12 month email marketing campaign, creation and maintenance of a Dynamic Small Business Search profile and registration on FedBizOpps.gov. US Federal Contractor Registration also offers registration services for vendors trying to complete CCR Registration and ORCA filing.
According to the Federal Procurement Data System, approximately $7.5 million has been obligated to be awarded in federal contracts to Woman Owned Businesses in 2011.
Officials have stated they expect to award the first WOSB and EDWOSB contracts by the fourth quarter of fiscal year 2011, so it is imperative that interested business owners complete the certification process as soon as possible so they are prepared. More information about the SBA's 8(m) WOSB Program can be found at US Federal Contractor Registration's Government Contracting Tips blog.
US Federal Contractor Registration is a third party company offering businesses the option to work with a case manager to complete and maintain their CCR registration and ORCA filing for one year, and then market their business to the federal government. Contact us today at uscontractorregistration.com or 877-252-2700 to start your registration.
# # #