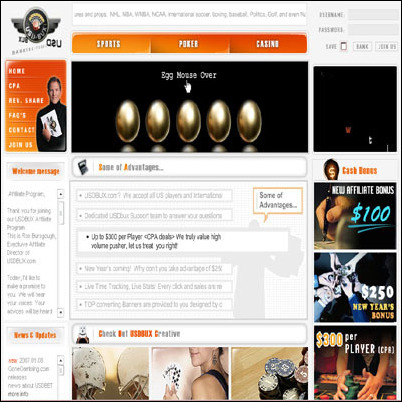 The key strength in this industry is honesty, nothing else. USDBUX has been loyal to me, I am loyal to them.
Curacao (PRWEB) January 12, 2007
USDBUX Affiliate Program announced $100 New Affiliate bonus and $250 New Year's Bonus. It seems not quiet of a bonus but in fact, these bonuses are for everyone that sign up at USDBUX.com. Best part at USDBUX seems to be the $25 Kickstart bonus for all affiliates. There are hundreds of affiliate programs out there and especially when it comes to online gaming niche of this industry is extremely competitive.
USDBUX made a great approach to attract bored affiliates, and continuing great relationship by fast payouts and loyalty with affiliates.
Once USDBUX Sales Executive spoke, " I have a favourite quote you know. Big will not beat small anymore. USDBUX will grow to be one of the top affiliate program by end of 2007. Trust me. I know this market and it is best time of entire decade to enter." It seems to be quiet true he said that last year in 2006. USDBUX was able to reach 300 active affiliates promoting USDBUX affiliate program.
USDBUX.com, the subsidiary department of USDBET ONLINE ENTERTAINMENT GROUP, is not only confident but it has a lot of merits the affiliates must sign up with USDBUX. When it comes to making profit off internet websites, we have seen that strength is in recruiting and refer-a-friend scheme. "It is most power marketing tool born in this planet." he added to us, and perhaps that is the reason why USDBUX Affiliate Program is crediting huge 2nd tier commission to affiliates of up to 20% compared to average rate of 5% in Gaming Industry.
At USDBUX, it takes just a sign up to earn bonus money of $25 which is not huge bonus however it is definitely not something every affiliate program gives out. In fact, when it comes to issue of loyalty of affiliates at USDBUX, everyone is steady and loyal.
The feedback from affiliate at USDBUX added that, "The key strength in this industry is honesty, nothing else. USDBUX has been loyal to me, I am loyal to them." This Affiliate program tracks live hits, live signups without delays, and that is how affiliate programs are distinguished whether it is honest or not.
It is discussed at one of the hottest growing Sports online community, SPORTSUNIT ONLINE COMMUNITY, that their initial contract of $120,000 with USDBET.com included the promotion of USDBUX Affiliate Program until it reached significant number of affiliates.
Payouts at USDBUX.com are processed through Neteller, or Wire transfer every last date of each month. Moreover, USDBUX does not promote negative carryover which can be risk to online gaming affiliates as such system may result in loss of profit the following month.
It takes first 5 players signup to earn extra $100 new affiliate bonus, and additional 5 players signup to receive $250 New Year's Bonus. USDBUX dedicated and personalized support is done through popular messenger such as AIM, Yahoo, and MSN. USDBUX Affiliate Program looks to be growing rapidly and it is remain to be seen how big they can expand by end of 2007.
# # #