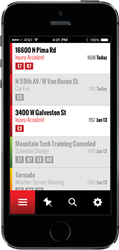 "This is the first fire station alerting app of its kind to be integrated with a comprehensive station alerting system, which is synched with alerts sent from the dispatch center to the fire station. It's not a standalone solution; it's total solution."
Phoenix, Arizona (PRWEB) October 08, 2014
Fire chiefs and public safety officials can now choose from a wider variety of fire station alerting technology, thanks to the latest product enhancements to the Phoenix G2 Fire Station Alerting System. Manufactured by the Arizona-based US Digital Designs, the Phoenix G2 helps reduce dispatch call-processing times by instantaneously alerting the right units, in the right places, so they can respond more efficiently and with better information.
"While we're excited about the entire suite of G2 station alerting products, the feedback that we've gotten from our customers and prospects is they they're very intrigued about receiving alerts at the station and on the go," said Dominic Magnoni, US Digital Designs' vice president and general manager. "Yes, there are several mobile alerting applications in the market, but this is the first of its kind to be integrated with a comprehensive station alerting system, which is synched with alerts sent from the dispatch center to the fire station. It's not a standalone solution; it's total solution."
US Digital Designs' Phoenix G2 Station Alerting System offers an array of sophisticated new emergency alert-related products ancillary to the system, such as the following:

For more information about the Phoenix G2 Fire Station Alerting System, download the US Digital Designs product catalog and other supporting materials at stationalerting.com/home/support-downloads/.
About US Digital Designs
US Digital Designs is a product engineering and consulting company specializing in designing, developing and installing high-quality and high-reliability mission-critical systems related to fire station alerting, robotics and more. Based in the Phoenix, Arizona, metro area, the company prides itself for having developed the outstanding Phoenix G2 Fire Station Alerting System. The system is gaining an increasing reputation for its major role in helping save lives and reducing property losses in emergency situations. Interested parties may download USDD's product catalog at stationalerting.com.
###