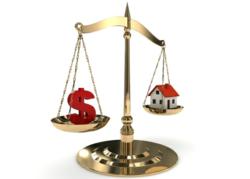 The very house you used your savings to buy could be in jeopardy if you suddenly can't afford the mortgage payments.
EL SEGUNDO, CA (PRWEB) April 19, 2013
In a new GoBankingRates Q&A series, readers ask the site's managing editor their most pressing personal finance questions. Casey Bond shares her expertise on a number of pertinent topics, such as saving money, credit, debt, mortgages, and more.
The most recent question comes from Clare H. from Wisconsin, who is considering buying a home. She asks, "I'm feeling antsy about buying a house since mortgage rates and home prices are beginning to go up again. I have just barely enough for a down payment, but I'd use up all of my emergency savings if I were to go ahead and buy. Should I do it?"
Ms. Bond explains that while the urge to hurry and buy before costs increase is valid, sacrificing emergency savings is not worth it.
She explains, "If all your money is tied up in a house, you certainly can't use it for a financial emergency… The very house you used your savings to buy could be in jeopardy if you suddenly can't afford the mortgage payments."
Ms. Bond goes on to advise how a home purchase should be prioritized along with savings goals, recommending homebuyers resist the urge to commit to a mortgage until more important items like an emergency fund have been addressed.
"You will thank yourself someday when the inevitable happens -- a financial emergency -- and you're well prepared to cover it."
Read the full answer here: http://www.gobankingrates.com/mortgage-rates/should-use-all-savings-buy-house/
For questions about this Q&A or to schedule an interview with Casey Bond, please use the contact information below.
About Casey Bond
Casey Bond has been a professional within the finance industry for close to a decade. Today, Ms. Bond regularly appears on a number of major national publications in addition to GoBankingRates, including Business Insider, US News & World Report, and The Huffington Post. She can also be found on Yahoo Finance!, Fox Business, and LearnVest, as well as in Redbook and Style. Her highly-anticipated newsletter "Cents in the City" is set to launch in the second quarter of 2013.
About GoBankingRates
http://www.GoBankingRates.com is a national website dedicated to connecting readers with the best interest rates on financial services nationwide, as well as informative personal finance content, news and tools. GoBankingRates collects interest rate information from more than 4,000 U.S. banks and credit unions, making it the only online rates aggregator with the ability to provide the most comprehensive and authentic local interest rate information.
Contact:
Jaime Catmull, Director of Public Relations
GoBankingRates.com
JaimeC(@)GoBankingRates(dot)com
310.297.9233 x261
###