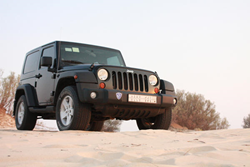 The price reduction that we are now offering for a portion of our inventory will remain throughout the summer or until inventory is sold out
Miami, FL (PRWEB) July 07, 2015
The EKG edition 6-cylinder motors that were produced by the Chrysler company for its Jeep brand between 1999 and 2010 are now available at a reduced price point at the Car Parts Locator website. The used 3.7L V6 Jeep engines that are in stock are lowered in MSRP for sales processed this summer at http://www.carpartslocator.com/3-7l-v6-jeep-engine.
The single overhead cam versions that are available to buy are meant for installation into the Liberty and Cherokee Sport models. The discount is also available for the PowerTech editions that are also offered in 3.7-liter size for other Jeep SUVs produced in the U.S. and Canada.
"The price reduction that we are now offering for a portion of our inventory will remain throughout the summer or until inventory is sold out," said a sales rep from the CarPartsLocator.com company.
The two-valve 3.7L blocks that are being offered will include a standard supplier warranty when shipped. Since the CPL company now uses more than one partner for inventory fulfillment, the length of parts protection might vary between companies. Consumers do not have to pay extra to receive the supplier coverage that is available.
"We are now adding more Jeep products to our used truck and SUV parts inventory, and will continue to measure the success of our sales programs," the sales rep said.
The Car Parts Locator website is now automated and is updated with real time inventory. A company database is now used to supply users of the company website with accurate stock levels and information about retail pricing this year.
About CarPartsLocator.com
The CarPartsLocator.com company supplies good condition vehicle components that are acquired as used from national suppliers in the United States. The company helps process sales and other customer inquiries through its website. The CarPartsLocator.com company now has a broad inventory of European and American manufactured components that can be found by using its website.