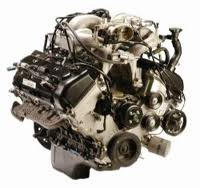 A new group of supply companies are now providing the fulfillment for the 5.4 motors that are for sale.
Wheeling, WV (PRWEB) June 12, 2013
Ford introduced its Triton engine in 1997 to boost the power levels in its F150 series. Truck owners trying to locate preowned versions of this motor could be disappointed by availability in some parts of the USA. The UsedEngines.co company has added the used 5.4 liter Ford engine to its inventory for sale online at http://www.usedengines.co/ford-engines/ford-54l-lightning-svt-engines-sale. These motors are now reduced in overall price to vehicle owners and others searching for quality Triton V8 replacements online. A new group of supply companies are now providing the fulfillment for the 5.4 motors that are for sale.
The installations for the Triton engine series includes the Expedition, F150, Excursion and larger F-Series pickups. This V8 motor is one of the largest manufactured by Ford although its discontinuance in the early 2000s has created some gaps in the secondary market to find replacements.
Part of the inclusion of this motor series online is to help owners of trucks or SUVs locate a low mileage units through the Used Engines Co. without paying retailer markup prices. The discounts applied through this company apply to complete Ford lineup sold online.
The UsedEngines.co company provides instant access to its searchable database of motors through its redesigned website. A complete redesign has taken place this year to upgrade the pages that are presented to buyers performing research for import or domestic engines. Part of the content on the new published pages includes better details about engine quality, mileage and other factors critical to helping buyers decide to purchase.
All pages now launched online include a new company quote form. This form can be used on any individual page to locate immediate pricing for an engine ready for sale. The quotes presented to buyers are offered from multiple suppliers handling the fulfillment and processing.
The Ford Triton engines now provided are in addition to Ranger series motors added earlier this month. A new process of inspection has been added to the engine inventory listed online. Some suppliers now offering the inventory listed for sale include evaluations and inspections prior to customer fulfillment. The news launched online at http://www.kpho.com/story/17859106/used-engines-from-usedenginesco-now-include-a-30-point-inspection-by-certified-mechanics is one effort made to announce the new testing policies put in place. The goal of these evaluations is to raise the overall installation quality and engine longevity for buyers of the preowned engines in stock.
About UsedEngines.co
The UsedEngines.co company lists most engines used by domestic and import automakers in its newly created database system online. Consumers using this company as an engine provider now have the ability to research engines as well as current company pricing online. The 2009 launch of the company website introduced the public to the price structures available for preowned motors. The UsedEngines.co company offers warranty policies through its supplier network to ensure parts failure or other breakdown issues can be corrected after installations are made. The price quote tools in use online are now able to generate updated sale price data in real time.