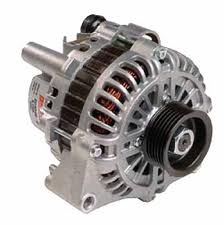 The use of alternators remains one of the most common ways to distribute electricity.
San Francisco, California (PRWEB) May 10, 2013
The sale of used auto parts is helping to provide buyers with replacement options for failed automotive parts. The AutoProsUSA.com company has built its reputation as a leading parts seller online and is now discounting one of its most popular parts in stock. All used alternators for sale are now sold for lower prices to provide the range of buying options parts buyers cannot find through various resources online and offline. These discounts apply to the genuine units that are in preowned condition ready for installation at http://autoprosusa.com/used-alternators-for-sale.
The modern electrical systems used in vehicle production have been modified since the 1950s. The new technologies that are used in import and domestic vehicle manufacturing includes better handling of voltage and charging for components like batteries. The use of alternators remains one of the most common ways to distribute electricity.
The high MSRP price charged by some automotive dealerships for replacement alternators is one factor that has helped to create the new discount price online. These discounted parts are part of company upgrades to bring the most affordable prices to buyers.
The AutoProsUSA.com company has recently developed a new YouTube channel to provide alternatives for customers searching for parts online. This new channel explains the company inventory upgrades as well as introduces the expedited methods of ordering on the company website apart from using the toll-free number system. The new video explaining the used alternators for sale inventory can be viewed online at http://www.youtube.com/watch?v=ya8IE_EjG8o. This channel receives regular updates when parts are added to the company system. Interested buyers are encouraged to view this channel on a regular basis to find discounts and other incentives.
Aside from the new video channel, this company has built one of the largest software tools currently available for searching auto parts online. The complete company inventory now links thousands of salvage companies, junkyards and other retailers into one resource online.
The integration of this online search tool is now helping more buyers locate parts for cars, pickup trucks, SUVs and commercial vehicles faster and easier. This new way of searching the company inventory now supplies the most accurate pricing. Auto parts quotes and other information can be extracted from the system at the touch of a button.
About AutoProsUSA.com
The AutoProsUSA.com company offers discounted parts for import and domestic vehicles. This company supplies its parts distribution to owners of vehicles, salvage companies, mechanics and other buyers of replacement auto parts in North America. The consistent inventory acquisitions made by this company have helped to build the inventory available to offer better resources to locate parts on the Internet. The AutoProsUSA.com company ensures all customers receive the proper level warranty protection for each part type ordered through the company system. Customer shipments are now expedited to create a faster delivery schedule to keep installations on time and budget.