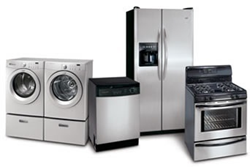 The best used appliance store for people in Fort Worth, TX.
Fort Worth, TX (PRWEB) January 06, 2014
The store has expanded its service department to include delivery and installation for reconditioned used appliances in Benbrook, White Settlement, and Fort Worth, Texas. This new offering has become available after receiving an increased demand from local residents to buy quality used appliances including installation and delivery services in the Fort Worth area. For more information call 972-607-9840 or visit the website at http://www.DallasReconditionedAppliances.com.
Anyone purchasing products from this used appliance store can save money and help the environment by recycling. Buying refurbished appliances is a great option for people who enjoy sustainable living and want to go green. Anyone who buys used appliances from Dallas Home Appliances has the option to have the old units removed and hauled off.
The warehouse has many reconditioned and used products in stock such as refrigerators, washing machines, dryers, ovens and stoves are available at great low prices. Top loader as well as front loading used washers and dryers are for sale and available. Used gas and electric range oven and stoves are also available, including glass top ovens and stoves.
Dallas Home Appliances is the best place to buy used appliances in White Settlement, Benbrook, and Fort Worth due to value and convenience. People looking for cheap used appliances will be happy with the affordable low prices, as well as the great quality. Washers & dryers do not all share the same electric cord ends. This means when a person gets home with a freshly purchased washing machine there is a chance that it may not plug into the electrical wall outlet for immediate use.
Taking advantage of delivery and installation by experienced professional ensures that every unit will be operational when installation is completed. Warranty options are also available for all units including washers, dryers, refrigerators, stoves, and ovens. For more information, call 972-607-9840 or visit the website at http://www.DallasReconditionedAppliances.com.